Fashion design contests 2018
Are you a young designer who needs funds to establish a brand? Are you a young designer who needs funds to show a collection at the fashion scene? You are at the right place. We present you the fashion design contests for 2018. You can apply and make a huge step in your future career.
Upcoming Fashion Design Competitions
Who Is On Next? Donna 2018
Altaroma, in collaboration with Vogue Italia, replicates in 2018 the scouting project "Who is on next", whose aims are the search for and promotion of young creative talents from Italy and the rest of the world. In the framework of its institutional activities, Altaroma has always paid particular attention to young, emerging designers, offering them support to launch and develop their own brands. The "Who is on next" project is also aimed at promoting contacts between young talents and national and international opinion leaders, journalists and fashion experts.
A Commission composed of officials from Altaroma and Vogue Italia will preside over the selection of the finalists. The winners, meanwhile, will be nominated by a Jury composed of the same members of the Commission combined with professionals from the sector (Italian and foreign manufacturers, distributors and retailers), and the Italian and international press.
The Commission will announce its final decision by 1st June 2018, selecting up to a maximum of twelve finalists for the two P-a-P womenswear and accessories categories. The results will be communicated to all finalists by letter and subsequently announced in a press release. The outcome of the selection will be publicised on the project's dedicated website (Altaroma and Vogue Italia websites). There will be no classification listing for excluded participants.
Entry deadline: April 2, 2018
Contacts: www.altaroma.it
"New challenges"
The special contest conceived by Istituto Marangoni with the creative support of Vogue Talents is addressed to Italian high-school students who dream of a future in fashion or art. The prizes for the best students are a true 'pass' to move the first steps in fashion or art: 50 scholarships in the amount of 5,000 Euros each, up a maximum of 50% of the admission fee (for the first year of study), valid for one of the three-year courses offered by Istituto Marangoni for the branches of Milan and Florence, for the academic year 2018/19.
Entry deadline: May 2, 2018
Contacts: Send an email to: newchallenges@istitutomarangoni.com with the subject line "New challenges" to receive all the detailed information regarding participation to the contest and related updates.
The EURO FASHION AWARD
An international fashion competition for creative, trendsetting collections from Europe. The idea is to support young fashion designers and reward outstanding creations. Fashion designers who have graduated with a master's degree in fashion design or have several years of professional experience are invited to participate. In exceptional cases, the jury can permit participation on the grounds of outstanding artistic ability if the candidate has an interdisciplinary background or no professional experience.
Entry deadline: April 21, 2018
For more information: www.euro-fashion-award.com.
A' Fashion, Apparel & Garment Design Competition
A freestyle design competition open to both concept stage and realized works designed by professional and young fashion designers, tailors, stylists, fashion design companies and other business in this industry worldwide.
The A' Design Award for Fashion, Apparel & Garment is not just an award, it is the indicator of quality and perfection in design, the award is recognized worldwide and takes the attention of design oriented companies, professionals and interest groups. Winning the A' Award is a certificate of excellence for designers, an important milestone in your career. Having the A' Award attracts the eyes of design oriented companies worldwide, winners will be able to find better and higher profile jobs & sales leads, get a step ahead in their life.

Entry deadline: April 13, 2018
For more information: competition.adesignaward.com.
Andam Fashion Award Paris
Founded in 1989 by Nathalie Dufour, under the initiative of the French Ministry of Culture and the DEFI (supervised by the French Ministry of Industry), with Pierre Berg? as president, ANDAM (National Association for the Development of the Fashion Arts) was conceived from the beginning as a structure for recognizing and assisting young designers on the French and international fashion scene.
The founding of ANDAM constituted a decisive step forward and the first public initiative in the promotion of young fashion talents.
Entry deadline: 2018
For more information: www.andam.fr.
The 2018 Independent Handbag Designer Awards
Handbag Designer 101 invites you to join us at the 12th Annual Independent Handbag Designer Awards. Come see the life changing night for designers across the globe to showcase their brands at the Handbag Awards in NYC on June 13th, 2018 and find out who will be the next "it bag" designer of this year.

Entry deadline: April 28, 2018
For more information: www.thehandbagawards.com.
H&M DESIGN AWARD 2019 - Fashion design competition fro Students
Fashion design competition titled H&M Design Award, an annual design prize for graduating students has been recently opened for entries for 2019. The prize, which underlines H&M's strong commitment to the future of fashion, was established in 2012 to support young designers' as they begin their careers in fashion.
H&M wants to find the most promising graduates from the world's top fashion schools and give them the opportunity to progress their career in fashion.
Students are welcome to participate by submitting their portfolios.

Entry deadline: July 31, 2018
For more information: www.designaward.hm.com.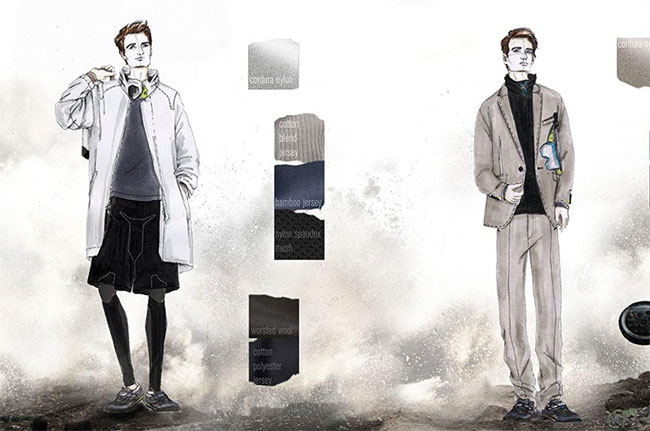 International Mittelmoda Fashion Design Contest 2018
Mittelmoda, one of the oldest international fashion design contest for young talents, this year is coming back for the 25th year and is calling out for the 2018 edition of the most international fashion design contest ever. The competition is promoted by Mittelmoda International Lab in collaboration with Camera Nazionale della Moda Italiana, SMI - Sistema Moda Italia, Fondazione Industrie Cotone Lino and Milano Unica. Every year the organizers receive entries from over 600 fashion, arts and design schools from 44 countries worldwide.
Budding fashion designers and fashion design students of the art & design colleges from all over the world have until the 30th of April 2018 to get their submissions in to run for the selection phase and then, if they are lucky enough, to get a capsule fashion show on Mittelmoda's catwalk and be awarded one of the many prizes available. Mittelmoda The Fashion Award is not only a competition for fashion designers and fashion design students, it is much more than this, it is a totalizing experience, an occasion of comparison and exchange, an occasion of growth.

Entry deadline: April 30, 2018
For more information: www.mittelmoda.com.
MUUSE X Vogue Talents Young Vision Award
MUUSE X Vogue Talents is now accepting entries for their 2018 fashion contest. This annual open call is a partnership with Italian Vogue and MUUSE, the cooperative that promotes international emerging designers. The grand prize winner will design a capsule collection under the MUUSE label which will be sold on the site and receive a feature on Vogue.it. 50 designers will be selected by the public and narrowed to 10 by Italian VOGUE's Senior Fashion Editor, Sara Maino.

Entry deadline: July 11, 2018
For more information: http://www.vogue.it.
LVMH
Every year, a prestigious jury consisting of great artistic directors and executives from the LVMH Group assembles to elect the winner of the Young Fashion Designer award. A committee comprising of more than forty internationally renowned fashion experts chooses ten finalists from the pre-selected candidates.

Entry deadline: May 15, 2018
For more information: www.lvmhprize.com.
Unlike traditional Masters, the Raffles Milano courses are innovative in both method and approach and are taught by an international faculty. The masters lasts 10 months and has only 20 students per class. The (didactic) program is composed of 10 modules, each organized and managed in collaboration with leading international Advertising and Photography agencies, important Product, Visual Design and Architecture studios, and exclusive Fashion Brands. This enables students to try their hand with concrete cases, guided by professionals.

Entry deadline: May 30, 2018
For more information: www.lvmhprize.com.


Hits: 21794 | Leave a comment