Celebrities' style: Aaron Taylor-Johnson
Aaron Taylor-Johnson was born at 13th of June 1990. He is an English actor, best known as the title character in the Kick-Ass films and Quicksilver in Avengers: Age of Ultron (2015).
Taylor-Johnson began performing at age six and has appeared in films such as Shanghai Knights (2003), playing a young Charlie Chaplin, The Illusionist (2006) and Angus, Thongs and Perfect Snogging (2008). He had his breakthrough performance in the John Lennon biopic Nowhere Boy (2009). He went on to portray Ben in the Oliver Stone-directed crime thriller Savages (2012), Russian aristocrat Count Vronsky in Joe Wright's adaptation of Anna Karenina (2012) and Lt. Brody in Gareth Edwards' monster movie Godzilla (2014). For his performance as psychopathic drifter Ray Marcus in Tom Ford's thriller Nocturnal Animals (2016), he won the Golden Globe Award for Best Supporting Actor – Motion Picture and was nominated for the BAFTA Award for Best Actor in a Supporting Role.
A wife, four daughters, three dogs, five chickens… the 27-year-old actor carries the life experience of someone twice his age.
Something about the way he dresses always suggests a man far beyond his 27 years, perhaps because he never opts for an overly flashy "try hard" suit and usually wears a mature spread collar shirt with an appropriately large knot. Rather than trying to enhance his suit with unusual fabrics or patterns, he leaves it to a perfect fit and powerful peaked lapels to bring home the style. When you have such a perfect suit, you can leave the unusual touches for your accessories.
We selected some of his best suits' choices: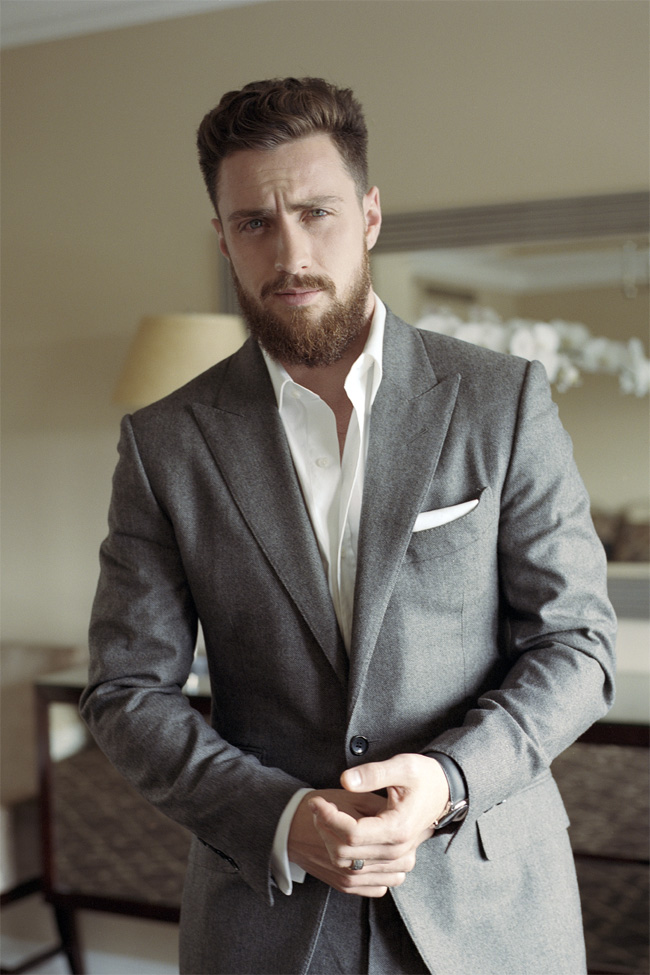 Aaron Taylor-Johnson dressed in grey suit combined with white shirt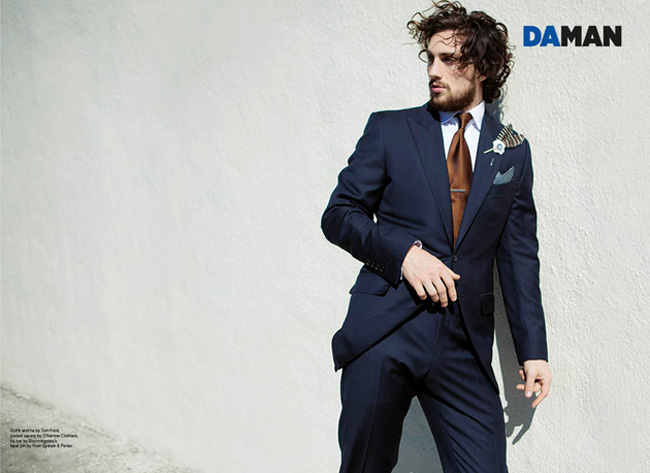 Aaron Taylor-Johnson dressed in dark blue suit combined with white shirt, brown satin tie and blue hankerchief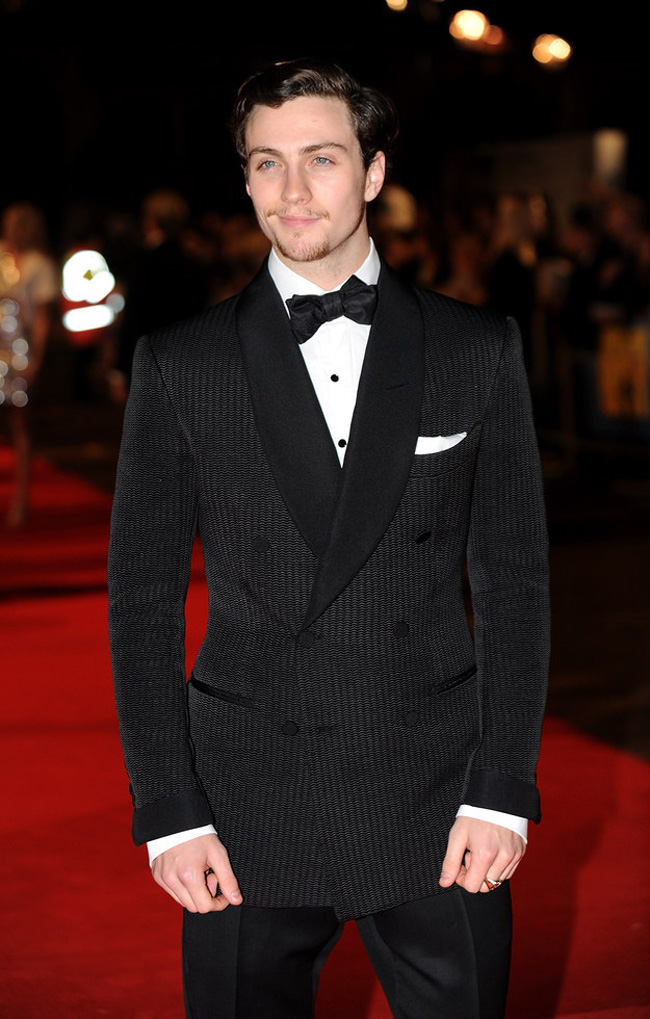 Aaron Taylor-Johnson dressed in black double breasted tuxedo with wide revers combined with white shirt, black bowtie and white handkerchief

Aaron Taylor-Johnson dressed in casual dark melange suit and shirt with no tie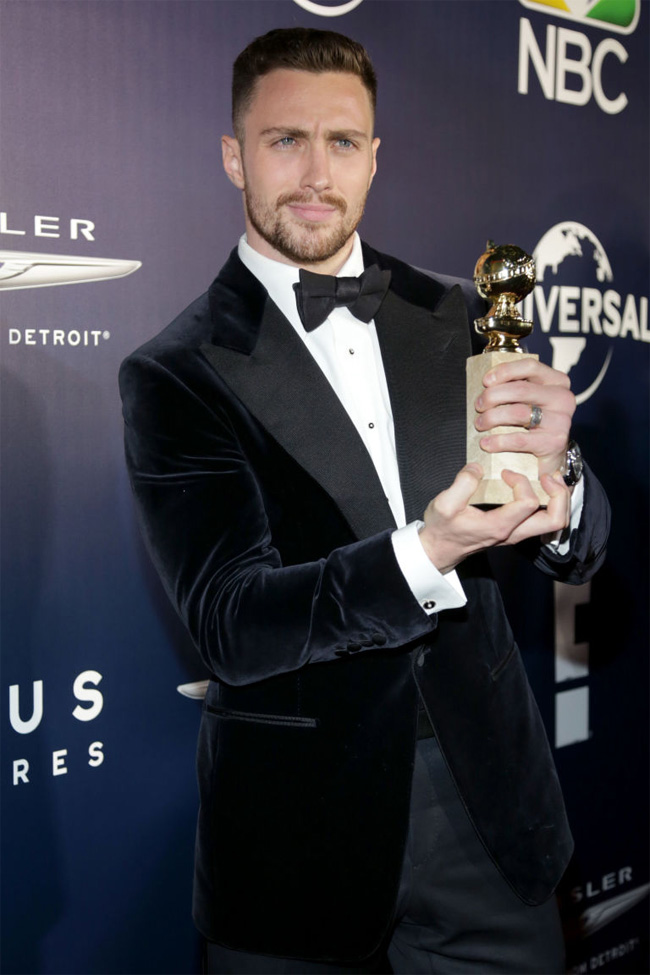 Aaron Taylor-Johnson dressed in dark blue velvet tuxedo with black lapels, combined with dark grey trousers, white shirt and black bowtie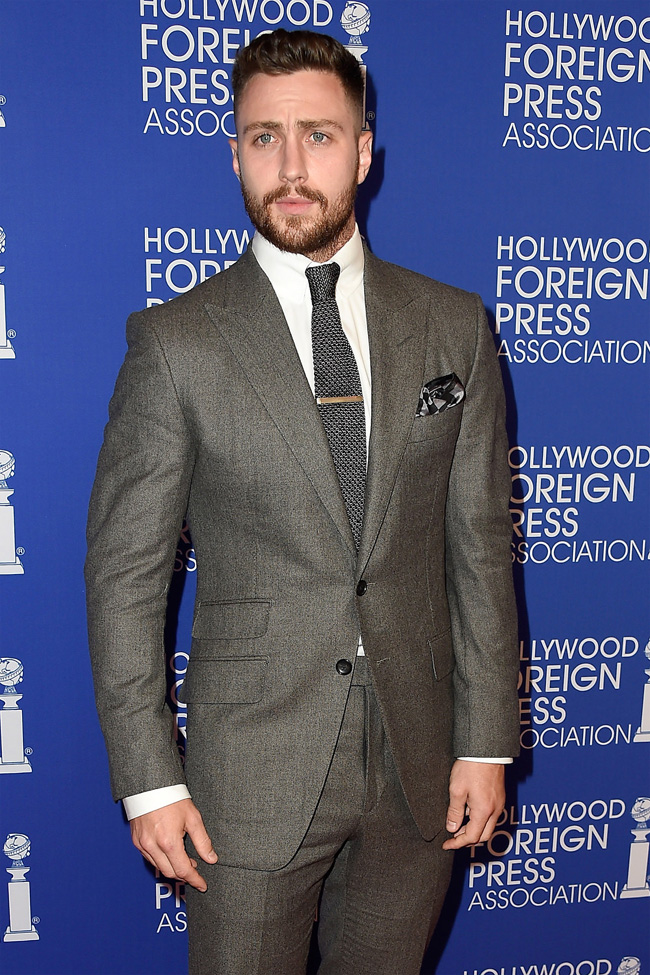 Aaron Taylor-Johnson dressed in grey suit, combined with white shirt and printed tie and grey handkerchief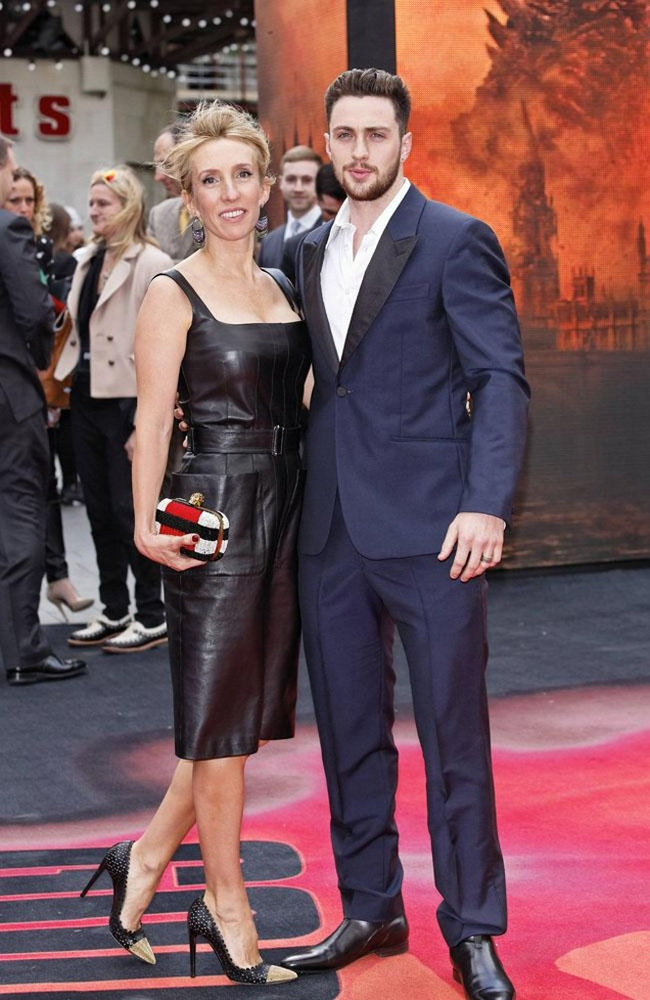 Aaron Taylor-Johnson dressed in grey suit, combined with white shirt and printed tie and grey handkerchief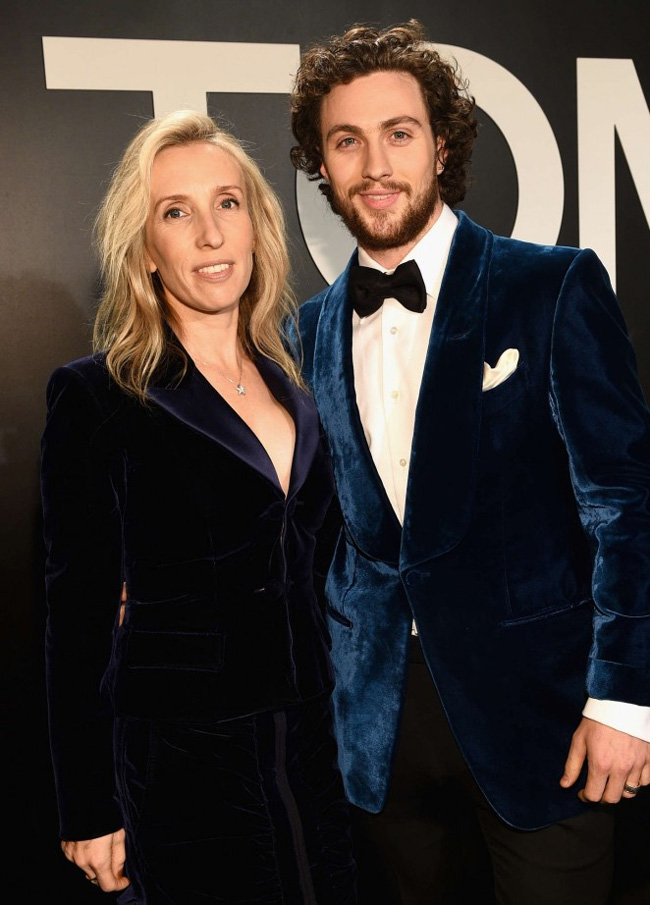 Aaron Taylor-Johnson dressed in blue two piece suit, combined with white shirt and no tie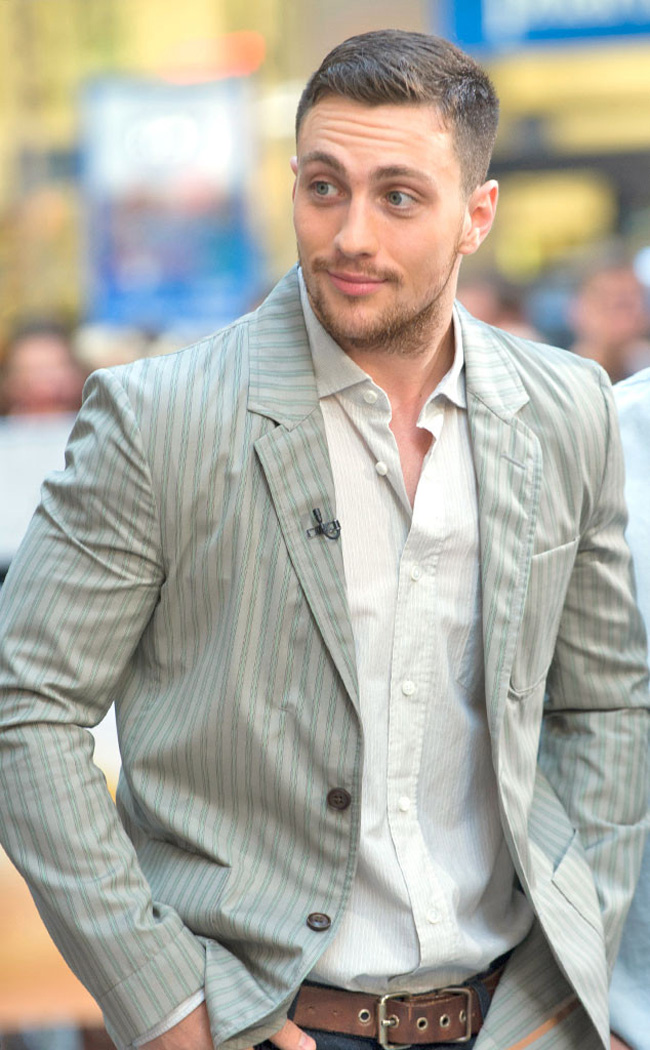 Aaron Taylor-Johnson dressed in blue velvet jacket, combined with white shirt, black bowtie and white handkerchief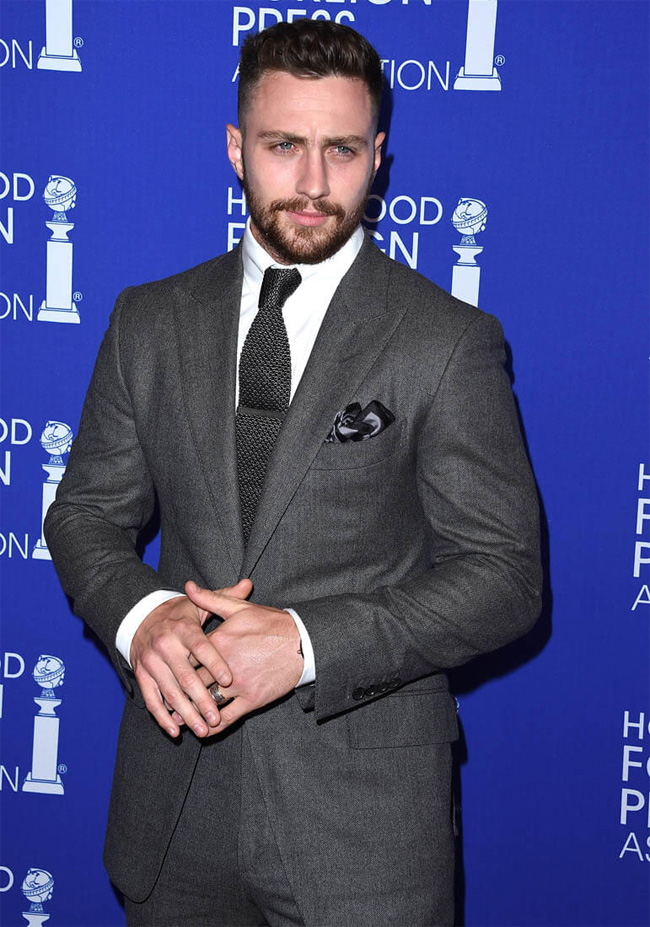 Aaron Taylor-Johnson dressed in casual striped jacket, combined with jeans and white shirt

If you like the style of the actor, vote for
Aaron Taylor-Johnson
in BGFN readers' voting for Most Stylish Men 2018


Hits: 11723 | Leave a comment