303 TUSCANS awarded Loro Piana for ethical fashion
At Milano Unica Loro Piana was one of the brands that received the "303 TUSCANS" award for ethical fashion. It is awarded to manufactures of fabrics made from natural materials, following the principles of Ethical fashion and having transparent supply chain.
Loro Piana offers luxury combined with true sustainability and ecological consciousness. Loro Piana is a vertically integrated company, where no stage of production is outsourced.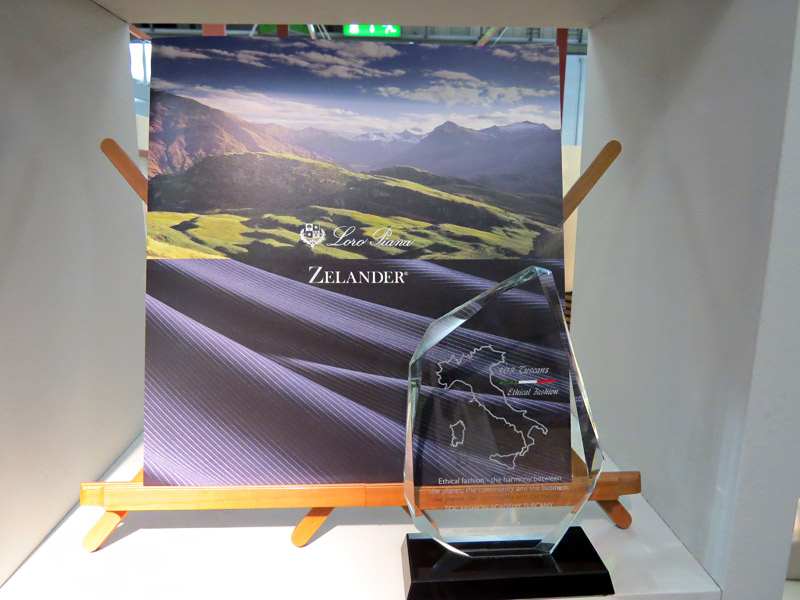 Zelander®
Bright, flexible and strong. These are the characteristics of Zelander®, a family of fabrics designed for cool and lightweight suits that are a pleasure to touch.  They are made using select, exceptionally white and clean New Zealand merino wool, characterised by the length of its fibres and greater resistance to wear.

Making use of exclusive spinning and weaving techniques, Loro Piana has further enhanced the distinctive properties of this fibre by interpreting it in a range of modern, dynamic and highly wearable fabrics. 

These natural fabrics have been designed to make tailored clothing, jackets, topcoats and lightweight outerwear for people who appreciate not only impeccable clothing, made of practical and functional high-performance fabrics.
Baby Cashmere Sustainability by Loro Piana
Baby Cashmere is incomparably soft, warm and light, and extremely scarce. The downy fibres can be collected only once – combed out harmlessly before the Hircus kid goat is twelve months old. Already renowned as the largest producer of cashmere in the western world, Loro Piana is now also the world's largest producer of Baby Cashmere yarns and fabrics.


Hits: 8978 | Leave a comment