Spring/Summer 2019 fabric trends from Milano Unica
For this Spring/Summer 2019 edition, Milano Unica exhibitors showcase renewed interest in experimentation not only in terms of trim, i.e. embroideries and prints, but also in textile production.
Unique and modern spinning techniques have been used to interpret trends. Businesses focused on color research and provided their original contribution while following the suggested trends. Research in materials, yarns, designs and patterns is at the core of this edition of Milano Unica, where modernity meets tradition in a balanced and organic textile vision.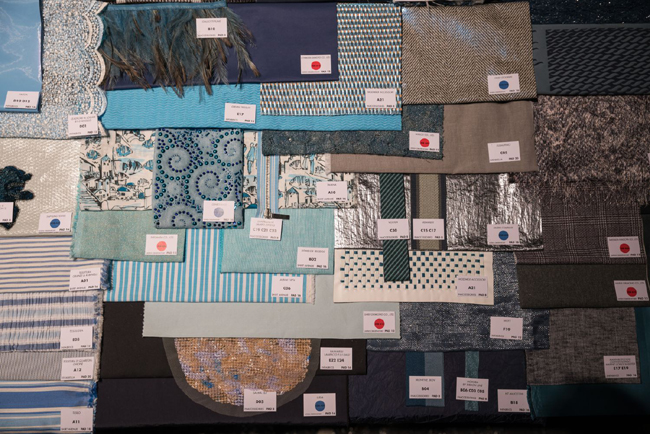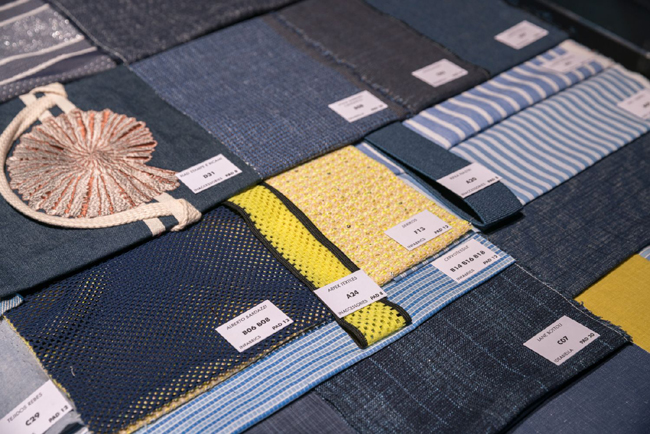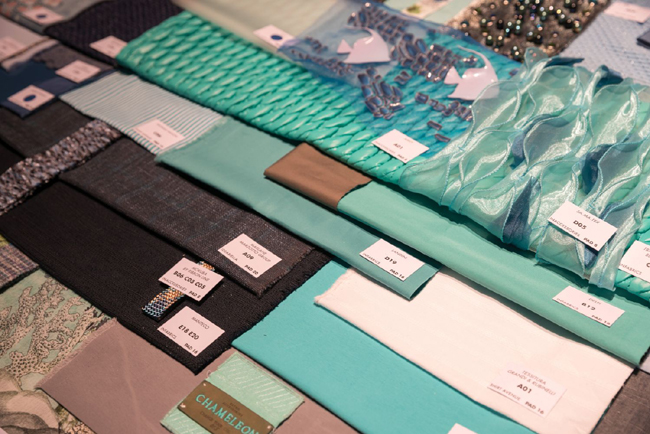 For the Water theme, colors range from blues and greens of the deep sea to flashes of tech yellow reminiscent of diving gear.
Micro, macro and alternated stripes are undisputed protagonists, developed on natural materials with water repellent finishes or supported, recalling the nautical universe, but also on extremely fine and rich shirting-like bases.
Films revitalized by sophisticated hues are heat sealed, stitched and used in "in-and-out" garments to meet requirements in terms of water repellency and breathability. Prints feature ironic and pictorial designs, including abstract and descriptive elements.
Embroideries are dynamic and accompanied by transparencies, applications and lurex touches. Jacquard is reinvented with fancy, lurex hued damask patterns on fabrics of different weight, all extremely rich and sumptuous.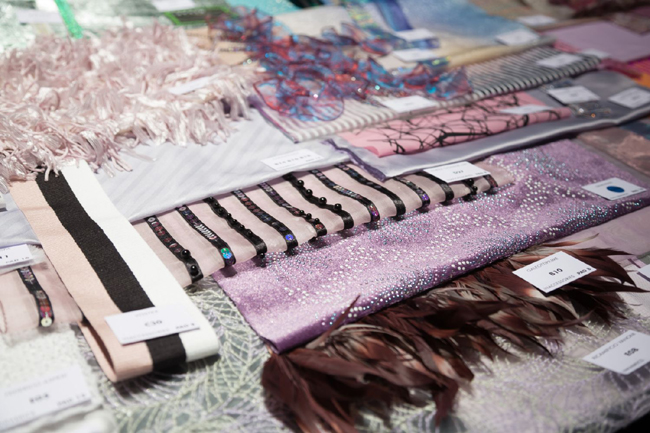 Denim comes in deep blue and in green water hues, in different weight and weaves. The sea world is celebrated by rubber, natural and extra-fine, large knitted meshes and shiny chiffon. Ribbons, used as showy details, finely developed, are presented in shiny yarns and lively color combinations, simultaneously showing lightness and intricate processing.
Extra fine and oversize cords feature original color braiding, spanning from the classical to dip-dyed tones.
Appliques are variegated and very elaborate: pearls and crystal sequins are used to evoke the undersea world.
Zippers come in bright colors and feature both striking heat sealed tapings with film-like or striped appliqu?s, and new multicolor metal.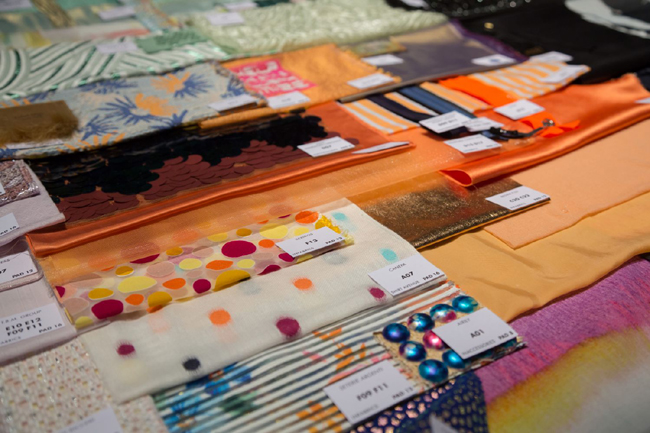 For the Air theme, colors present light blues and iridescent green, while space-suit orange accentuates boreal fuchsia and sophisticated pink hues for a futuristic aesthetic.
Satin, muslin and poplin here are surprising for their color in a glam vision reflecting shiny and matt versions.
Techniques are sophisticated and characterized by floating yarns and fancy weaves. Shirting offers shiny, dream-like and multicolor graphics.
There is an interesting proposal of "all-over" sequins, both micro and macro, lurex appliques and embroidery.
Gatherings renew pleats and the macro floral appliques reinterpret tulle. 3D is key in this theme both featured with tapings lined in transparent plastic materials and with detailing in relief.
Lace is enriched by feathers, lurex touches or new iridescent crochet stitching. Ribbons present impalpable lightness, luminescence, color-changing sequins decorations and multicolor frayed jacquard.
Dip-dyed chiffon whirls create patterns on detailing. Zippers recall the cybernetic world with mirror and sidereal effects.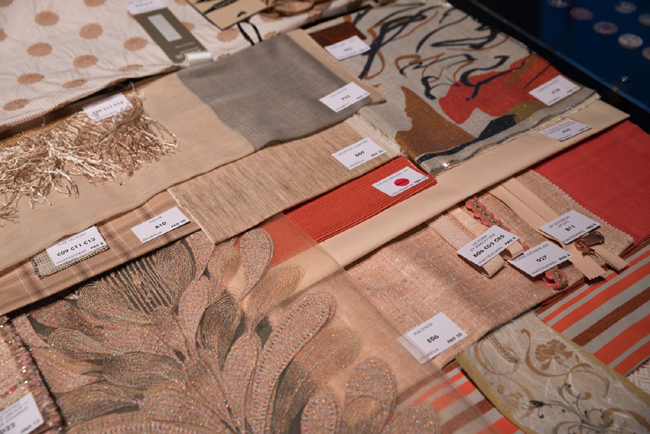 The Earth theme has been interpreted with neutral colors, volcano-like flashes and tone-over-tone overlays.

The patterns of the Masai culture, like the check and the geometric patterns, have been desaturated and proposed for shirting fabrics in mild and sandy hues. Jacquard presents various tribal designs and embroidery enriches apparently raw processing like fraying.

Prints come in multi-level dyes, recalling stone layering with marbling, whitening and plastering effects. Large weaves and macro crochet add to the offering. Yarns look raw but with a very soft hand. There is an interesting proposal of linen and cotton with super soft finishing.

Ribbons, featuring clinical colors, present sophisticated techniques with embroidery, frayed details, streaks and interlacing.

Appliques include rhinestones and matt crystals, but also metallic tech-tattoos on tulle bases. The feathers in this theme represent an important element as they describe the archaic decorations and surprise with "tie dye" marbling effects. Zippers include oversize pullers in matt metal and taping in neutral colors and natural materials.


Hits: 14437 | Leave a comment