Choosing the Right Lapel Pin for Your Tuxedo or Suit
The lapel pin is a classic menswear accessory that has become more and more popular nowadays, especially with the resurgence of bespoke fashion. Indeed, a lapel pin can make an already dapper tuxedo or suit look even more polished and elegant – but only if you choose the right kind.
Here are a few guidelines on choosing the most fashionable lapel pins for your formal wear.
Die-Struck Pins
Die-struck lapel pins are made with gold, silver, copper, nickel, brass, and similar metals which gives them a distinguished, handcrafted appearance. This makes them suitable for formal occasions like weddings, awarding ceremonies, gala dinners, and the like. In fact, if you are attending a recognition program, you may even see a die-struck lapel pin among the trophies being given.
Remember to match the metals on your ensemble for a more sophisticated, put-together look – if you are wearing gold accessories like a watch, a ring, and cuff links, for example, then choose a gold or gold-toned lapel pin. If you want to wear a lapel pin inlaid with gemstones, then it's best to opt for a similarly colored suit.
Enamel and Printed Pins
Depending on the design, say the flag or a logo of a company or a movement (like breast cancer awareness), you can wear hard or soft enamel pins at formal events. Just make sure that the design does not distract or take away from the purpose or theme of the gathering. For example, if you are attending a fundraiser for a cancer foundation, it would be in bad taste to wear a lapel pin that promotes awareness for a different medical condition. It's better to wear a lapel pin of the event's organizers or, at the very least, one with a logo of one of the sponsors or partners.
For events that are more casual in nature or places that do not have a strictly formal dress code, say a business conference or a fine-dining restaurant, pins with more colorful, bolder designs won't be so out of place. You can even wear two lapel pins at once. You can mix and match (say, two floral pins) or perhaps wear one that is a part of the entire ensemble and another that promotes or supports a cause, say the Red Cross or the World Food Programme. Just don't overdo it with huge pins that overwhelm instead of accentuate.
Floral Lapel Pins
If you're attending a wedding and you're part of the entourage, you don't have to worry about getting a matching lapel pin as you'll most likely be given a flower to pin onto your lapel. Meanwhile, guests are not normally required to wear a boutonniere, but you can always wear a floral lapel pin in a solid color that matches the motif. To be on the safe side, choose a smaller size to ensure that your lapel pin isn't larger than the wedding party's own boutonnieres.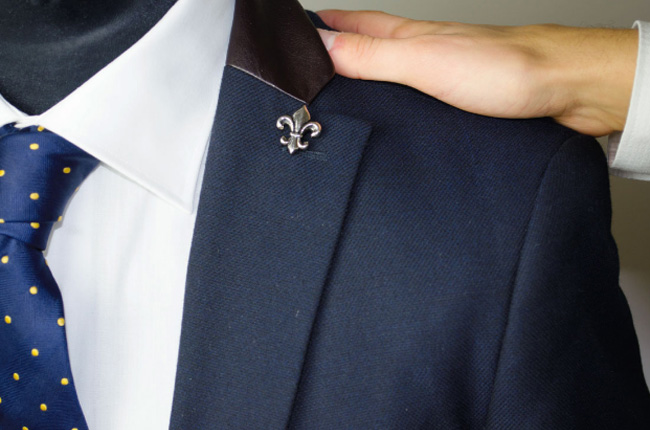 Patterned floral lapel pins are a bit trickier to pull off, but look rather sophisticated if you do. Pair these lapel pins with suits with minimal or no patterns. If you choose to go pattern-on-pattern, make sure that your suit serves as an anchor to the lapel pin – that is, your suit and/or shirt should have the more eye-catching design.

Floral lapel pins aren't limited to weddings, although they may look rather out of place in less formal events. Check if the event requires formal dress; if it does, then you can't go wrong with a small, simple floral pin.

One more thing to remember in choosing the right lapel pin is the color and/or pattern of your tie and pocket square. If your tie or your pocket square are already boldly hued, your lapel pin should be a bit more muted to avoid a tacky, garish look.

Simple enough right? With practice, choosing the right lapel pin for your tuxedo or suit will soon become second nature.


Hits: 13438 | Leave a comment