Popular custom tailors in Illinois
We continue our series of articles about the custom tailors from the separate states in USA. It is time to show you the custom tailors in Illinois. Most of them are situated in Chicago and they are in the industry of custom clothing for a long time. See what we found in Illinois:
Tom James - Tom James Company is the world's largest manufacturer of custom clothing. They make high quality custom suits and custom dress shirts for busy professionals in Chicago Western Suburbs and the surrounding areas. They also provide all of the furnishings needed to complete your custom look. Their highly-trained bespoke tailors at Tom James of Chicago Western Suburbs come directly to your home or office, saving you valuable time.
Matthew Mason - Matthew Mason Clothing provides a niche for the businessman who is always on the go. Owner Chris Alwan knows how busy you are, so to make it easy on you he comes to your office or home at your convenience. With 20 years of experience Chris will be able to help tune up your wardrobe or get you a whole new look. Chris has clients in Peoria, IL, Chicago, IL, St. Louis, MO and the surrounding cities. Matthew Mason caters to all types of menswear. Chris can help the businessman on the go with sport coats, suits and ties and he can help the active man with casual shorts or pants and golf attire! No matter what your need is, Chris will help you find the perfect look and perfect fit!
Frederick Lynn - Frederick Lynn specializes in custom made apparel for men and women. They offer a true "custom" made garment specializing in custom suits, jackets, slacks, shirts, formal wear, outerwear, neckwear, sportswear and other items. To complete the look, they offer a selection of unique furnishings and accessories as well as other lifestyle products. In September 2010, Frederick Lynn Haberdasshere was started from the top of Aaron's garage operating a direct business model seeing customers in their home or office. In the third year of Frederick Lynn (the names of his parents' middle names) operating as a direct business, Aaron built out and opened a 2,200 square foot showroom downtown Chicago in the Gold Coast. Thus, allowing him to offer one-on-one appointments, exclusive amenities in an intimate and relaxed environment; filling a niche not only as a luxury clothier but as a lifestyle brand.
Oxxford Clothes - Oxxford Clothes is the only manufacturer in America that tailors custom garments by hand. We have been committed to handcrafting the finest suits in the world for 100 years. Made in Chicago since 1916.The foundation of an Oxxford suit is rooted in impeccable construction created in Chicago's West Loop. Each suit is individually cut by hand; plaids and stripes are matched at all seams, even those that aren't exposed; all coat buttons are made of horn; buttonholes are hand-stitched. Collars and lapels are hand-stitched with 2,950 stitches or more to ensure shape and balance. Of the 165 steps involved in producing a suit jacket, 33 involve pressing. After a suit is completed, final pressing by hand takes over an hour. Only natural fibers are used in the creation of their clothing. These fabrics are selected from the finest mills in Italy, Spain, and the United Kingdom. Oxxford pieces can be found in specialty shops across the United States along with their showroom in Chicago and flagship store in New York.
Steele Tailors - Bill Steele, owner of Steele Tailors, will personally come to your office or home to give you a custom fitting. Steele Tailors carries a full line of suits, separates and accessories. Each article of clothing is custom fit and altered to your exact measurements.
Jim Herron - You'll find top-of-the-line menswear at Jim Herron, Ltd. Their locally owned and operated men's clothing store has been in the business for over 40 years. When you shop for their excellent-quality dress shirts, neckties, formal wear, jeans, and more, you'll have a great experience at their store.
Richard Bennett - They are Chicago's authentic Bespoke Custom Tailor – hand crafting garments of distinction in their own shop since 1929. Their staff of European Master Tailors has over 250 years combined experience in the pursuit of sartorial perfection and that expertise and hands-on workmanship delivers the finest quality and fit garments. Their approach is decidedly "old-fashioned" and proudly so – the best fabrics, careful measurements and true Master Tailoring – the finest garment you'll ever wear!
Louis for Men - LOUIS FOR MEN offers the finest made custom suits by HART SCHAFFNER & MARX CUSTOM program and H. FREEMAN. This is the solution for the customer whose fit needs more exacting attention. Detailed measurements will ensure a more exact fit. Choose from the finest fabrics from Super 100s, Italian wools, silks and cashmeres available. With their precise measurements taken you can customize your suit from 2 or 3 button, side or center vents, pleated or plain front trousers, pic stitching, pockets, linings, buttons and many more to make your custom suit truly one of a kind.
Adrian Park - A suit that fits will serve you well for everyday and formal occasions alike. At Custom Men, their experienced tailors serving Chicago can help you find the best fabric and fit to create a tailored suit that meets your needs in terms of function, aesthetics, and comfort. We proudly offer top-quality tailoring and custom design services to each client, as well as one year of free alterations for all custom and bespoke garments.
Zeglio Custom Clothiers - Whether you are a businessman who often attends crucial meetings, are getting married, or just always like to make a good appearance, suits by Zeglio Clothiers will help you look (and feel) your best, whatever the occasion. Custom designed and tailored, they show unmistakably that you care enough to want to make a fine impression. Careful styling can display your personality and self-confidence, and Zeglio is your ideal partner to create clothes that express you, uniquely.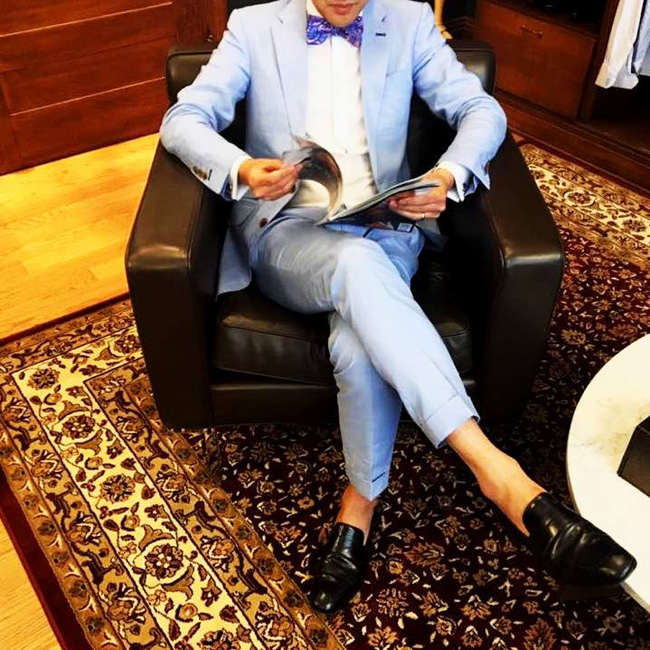 Roma Tailors - With over 50 years of experience, Roma Tailors can help you achieve your custom fit or one-of-a kind look. Expert European trained tailor and seamstress offer superior craftsmanship and attention to detail. They offer a full range of tailoring and alteration services for both men and women. In addition, they offer an incredible selection of fabrics to create custom suits and shirts for both men and women. Whether you want a custom fit on a garment, or want to create a new custom fit suit, allow Roma Tailors to help you get that perfect look and fit.

Nicholas Joseph Custom Tailors - Choose the Perfect Fabric and Styling Details. You get access to the best fabric mills in the world, like Ermengildo Zegna, Vitale Barberis Canonico, & Loro Piana. Over 1000 fine fabrics and dozens of finished garments are waiting for you to see and feel. Get styles recommended just for your body type, what you do, and who you get in front of.
In 2010, a new showroom was opened in Chicago's River North neighborhood, with dozens of samples and displays designed to inspire, and years of experienced experts ready to deliver, complete with a Master Tailor on site. Nicholas continues to work with clients by pulling from his creative and business background, creating the perfect balance of style and fit.

Balani Custom Clothiers - For over 50 years, BALANI has specialized in delivering the the world's most prestigious fabrics constructed in their highest standards of craftsmanship. Their highly-knowledgable team of clothiers will help you determine the proper cut, fabric, and style that is suited best to reflect your personal sense of style and body type.

Daniel George - A gentleman can always depend on a well-tailored suit. From distinctive cloths to unique patterns, and from double breasted to three-piece, the men who wear their suits simply look better than the rest. They'll work with you based on your height, weight, build and shape to achieve a look that is most flattering, assisting you with questions and giving recommendations along the way. There are many important elements of a man's sartorial needs that are often overlooked, as well as his misconception of what may be required...

Hall Madden - Mastering the suit was the first Hall Madden goal, a process that took 7 years to fully complete. The suit is a difficult product to manufacture and the United States is notorious for people wearing bad suits. Hall and Madden's immediate goal became introducing the U.S. customer to a "Proper Suit" - one that was made and fitted the right way.

J. Toor - J.TOOR is a specialty menswear retailer that specializes in the design of handmade-bespoke as well as made-to-measure garments for men, women and children. Their In-house master tailors offer garment repair and alterations for both men and women. Today's men are increasingly aware of their personal image, and how it impacts their social and personal interactions. At J.TOOR we set out to create high quality hand-made Bespoke clothing for the discerning Gentleman to ensure he always look his best, while maintaining his unique personal style. Their garment types are typically British, ranging from a Classically Cut English Suit, to a velvet Smoking Jacket with Silk Frogging, and from a Norfolk Jacket to Full Tail Coats. The suit styles are developed on Savile Row and are the perfect blend of classic and contemporary, ensuring the most modern look while looking timelessly elegant.


Hits: 5243 | Leave a comment