Popular custom tailors in New Mexico
We continue our series of articles about the custom tailors from the separate states in USA. It is time to show you the custom tailors in New Mexico. We found a very little tailors that provide "custom clothing" service but we hope that it will be useful for those you like to dress sharp and best fitted.
See our top tailors in New Mexico:
Tom James - Tom James Company is the world's largest manufacturer of custom clothing. They make high quality custom suits and custom dress shirts for busy professionals in Albuquerque and the surrounding areas. They also provide all of the furnishings needed to complete your custom look. Their highly-trained bespoke tailors at Tom James of Albuquerque come directly to your home or office, saving you valuable time.
Tailorite Alterations - With over 30 years of tailoring experience, Tailorite has seen and done it all. They often provide a same day turnaround, are always on time, and strive to exceed customer expectations. With their superior attention to detail, they take great care to make sure that each job is done right.
Suits Unlimited - They have been tailoring menswear for New Mexicans since 1971. Their tailors are experts in fit, garment care, and fabrics. They work on everything from men's suits, sport coats, slacks, pants, custom menswear garments, men's ties & accessories, etc. Men's clothing and alterations are their specialty. They guarantee their tailoring services, so if you ever have an issue they'll take care of it in the quickest way possible. Did a hem on your business suit fall on your way into work this morning? No worries, they'll fix if for you in just a few minutes. Suits Unlimited provides the very best in customer service and menswear to the Albuquerque area. Their turn-around time to tailor a garment is usually 4 days. However, this time frame can be variable at times due to high or low volume of garments to be tailored in their store.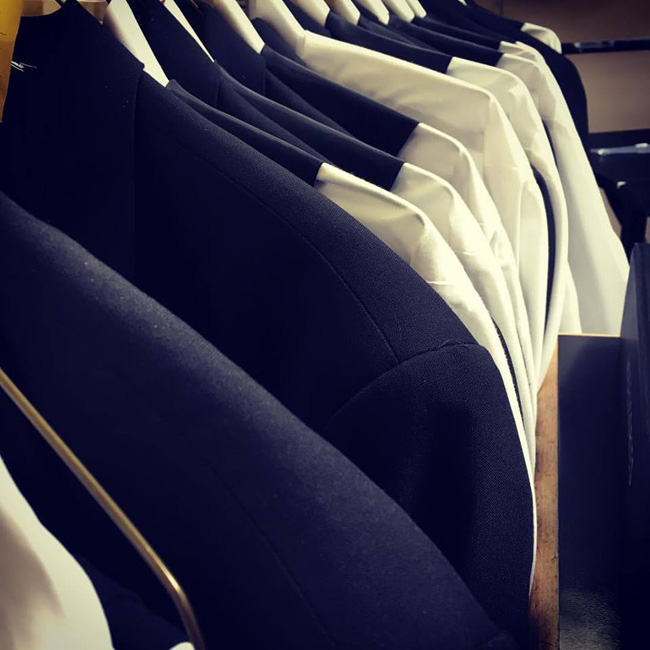 Bert and Jess Clothiers - Express your individual preferences with made-to-measure garments in a variety of fits and styles in a variety of fabrics. They offer an extensive collection of customized orders including suits, sport coats, trousers and shirts. Come in today for a personal consultation to determine the best options for your specific wardrobe needs. You can feel confident that their expertise and experience will deliver garments perfectly tailored to your fit and style.

Final Stitch Tailoring and Clothing - They specialize in all of your tailoring needs from formal wear to casual wear. Any garment can be tailored to your satisfaction. All work is done by a professional on-site tailor with the utmost quality and care. They guarantee that your clothes will fit like they were made especially for you and they will do what it takes to ensure you look and feel great in your garments. Their quality, professionalism and express service are designed to surpass your expectations. Each customer has their own private changing and fitting room for ultimate comfort and privacy..


Hits: 3549 | Leave a comment