Popular custom tailors in Kansas
We continue our series of articles about the custom tailors from the separate states in USA. It is time to show you the custom tailors in Kansas. These tailors are with a rich experience in custom made suits and accessories. Some of them provide the tailoring service in more states but also have a workshops in Kansas.
Houndstooth - At Houndstooth they think all great suits start with an impeccable fabric. With over 600 choices, from venerated mills throughout england and italy, they'll guide you through the fabric selection process. They'll find out your intended uses and needs and find a fabric that works for it all. From ultra silky super 150's and up to classic british tweed, let them know what your looking for and we should have something suitable. The handmade suit has considerable handwork, and is almost completely hand stitched with the exceptions being the three long seams on the back of the jacket, and the pocketing. A hand stitch is generally only a single piece of thread, and loops around and through both pieces of fabric, and has little to no tension when completed. This allows the fabric to just fall, and drape properly. It also allows for greater movement of the seams, and will only fit better over time, as the seams settle into your ways of movement. As you move in your jacket this lack of seam tension will make your jacket softer and a good bit more comfortable to wear.
Moda Domani - MODA DOMANI is the style of the future – Master tailor Anthonio Fakeri has been passionate about clothing design for thirty years. Now you can experience Anthonio's passion for superior craftsmanship, custom fit, and quality fabrics through his new line of men's clothing. They specialize in matching the man to his inherent style to bring out your best qualities. Through complete dedication, they create the ultimate custom garment just for you. A process that delivers pure value, a custom fit will keep you wearing your garment with pride over and over again. Utility, the ultimate sign of satisfaction and the drive for value. You will wear it more because it fits you.
Quivira Tailor - They make quality hand made custom suits, vests and shirts in the Overland Park, KS. Their craftsmen have over 40 years of experience. Custom orders can be completed in just two weeks. As your custom tailoring and alterations specialist, they know how important it is for you to look your best. Before you even say a word, your clothing has already made an impression on others – good or bad. Let their skilled tailors help you make a great first impression – when it really counts.
Johnston's - In that tradition, taste is the guide to fashion, experience is the guide to quality, and dedication is the guide to service. This tradition, well known in the community, is your guarantee of satisfaction when you walk out of their store. But excellence is more than the above. It includes the pleasures that await you when you walk into their store. It includes an exciting array of newly arrived clothes from the best labels and designers in the world, an environment that allows you to relax and enjoy your visit, and most of all it includes their professionals who will help you select outfits that reflect your individuality, project a sense of confidence, and keep you in step with the times. They will direct you to outfits and accessories that are refreshing and practical, and suited to the occasions when you will wear them. And they will make sure that every item you select is tailored and ready to fit you perfectly in 3–5 days with same day alterations available.
Slabotsky's Fine Menswear and Tailoring - Nothing looks or feels better than a perfectly tailored garment and that's exactly what you'll get at Slabotsky's. Whether it's purchased from them or something you bring in, their on-site tailors will make sure each piece fits you flawlessly and at a great price!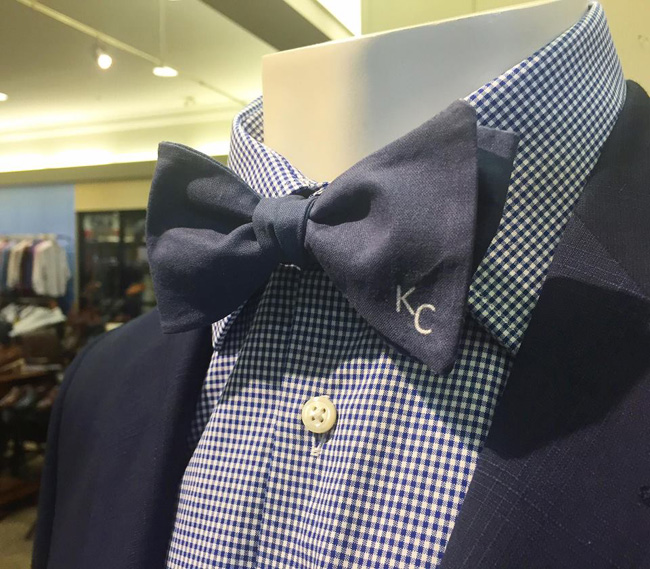 Geno's Clothiers - Upon opening, Geno's Clothiers immediately developed a following thanks to their quality tailoring. Geno's Clothiers is located in Park Place in Leawood, KS. Geno's Clothiers carries a large variety of high end men's clothing. They carry everything from suits to ties and shoes to sports jackets. There is a little bit of everything for everybody. They have an entire selection of Italian suits, dress denim, casual and dress shoes, belts and so much more. At Geno's Clothiers, they pride ourselves on customer service. A family owned store, you can expect the kind of great customer service that you wouldn't get at a department store. At Geno's you'll get one-on-one personal shopping that is sure to keep you looking your best!

Byron Clothing - Every detail is scrutinized to complete the perfect fitting garment. From the fabric choices to each hand stitch in every Byron garment. Ultimately a suit jacket is judged by its fit, and the essence of the British look is to be trim and fitted, but not tight and still very comfortable. Those seemingly diametric notions have been perfected through generations of the British apparel industry. Although this look is particularly fashionable throughout the world today, we have always viewed this is as the proper fit. It begins with a natural slope shoulder. The jacket body and lapel are constructed with a floating canvas chest piece that molds to the body. Tailored so that a gentleman can "feel" the garment on him. Executed in a manner that allows a freedom of motion, the overall affect is a compact and concise presentation. An elegantly tailored garment is correct for all occasions. Worn with or without a tie. Or with your favorite dark wash denim, a Byron jacket is an expression of standards and personal style. We obsess over the details of fit, and allow the gentleman to make the look his own. The fit belongs to Byron. The rest is up to you.

Pinstripes Clothing - Pinstripes is the source of the best in men's fashion for the boardroom to the ballpark. From the finest fabrics in made to measure suits and sportcoats to casual sportswear from the world's best designers and manufacturers. Pinstripes leads the league in putting together outfits that bring the look of success that you strive for. From their trained and experienced clothing consultants and world class tailor to the finest line-up of designers in the world, Pinstripes will help you to look the way you've imagined you can look.

Tom James - Tom James Company is the world's largest manufacturer of custom clothing. They make high quality custom suits and custom dress shirts for busy professionals in Kansas City and the surrounding areas. They also provide all of the furnishings needed to complete your custom look. Their highly-trained bespoke tailors at Tom James of Kansas City come directly to your home or office, saving you valuable time.

Paolini Garment Company - The Paolini Garment Company takes pride in delivering the best – in fit, fabric and personalized details. We create garments completely custom-tailored for you, working with 18 different measurements for the perfect fit. Our fabrics come from the finest fabric mills around the world, including Italy, England and Australia from Ermenegildo Zegna, Vitale Barberis Canonico and Dormeuil.


Hits: 4041 | Leave a comment