Kufner had a highly successful exhibition at Techtextil 2017 in Frankfurt am Main, Germany
Kufner is a fully integrated company with a 150year old tradition located in Munich, Germany. Its 520 staff in four production sites on two continents produce about 150 million meters each year. The vertical integration includes production stages weaving, knitting, finishing and coating as well as production of thermo-bonded nonwovens and warp production. Kufner is one of the leading companies for interlinings in the apparel industry. As a global provider of technical solutions, Kufner has over 20 distribution companies and a worldwide service network in over 60 countries that guarantees short delivery times. The state-of-the-art production facilities with computer controlled process monitoring are certified under ISO 14001 environmental management and 9001.
Sustainability is an essential factor of the Kufner Group's environmental philosophy. Long-term strategies of this future-orientated group always focus on creating harmony between social aspects and environmental considerations.
Martin Dinter, Global Sales Director Technical Textiles, Kufner Holding GmbH said that the company had plenty of new contacts and prospective new customers coming to their booth.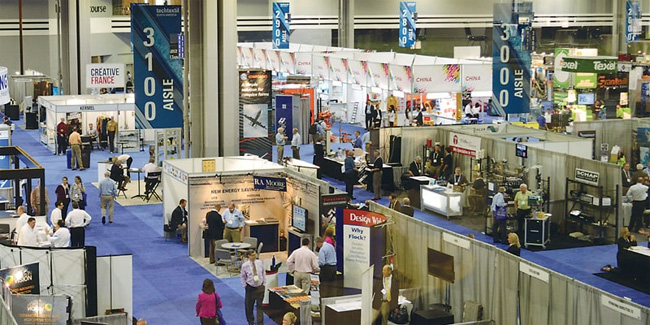 The company presented at Techtextil 2017 respective products - they are tailor-made according to specific customer requirements – in compliance with the applications scenario various volt ranges and temperatures are feasible. The trade visitor could get an idea of the enormous margin of temperature scales when touching the wall panels on the booth. Numerous conversational partners at the fair, who were highly familiar with the topic of heating textiles, were pleasantly surprised when they experienced the efficiency of the technology combined with a 30-40 percent lower energy consumption.

Further highlights showcased at the fair were the product line X-Shield®, a Kufner solution to protect from electro-magnetic radiation and unauthorized access to RFID data as well as an innovative transport securing system that has been developed together with the partner go11save. X-Shield® may be applied to various market segments: from fashion and leisure wear, home textiles, automotive, military, sports, medical to construction and electronics industries. At the Techtextil booth an exemplary oversized wallet of the brand Esquire demonstrated how the X-Shield® fabric works. X-Shield® material in the inner lining protects the data of RFID chips on cards against unauthorized access by fraudsters.


Hits: 3370 | Leave a comment