Meet Marco Gallo - Chief Tailor of Sartoria Gallo Rome which invented the lightest men's jacket
Sartoria Gallo is a tailor shop in Rome, located at 45 Flavia Str. Luigi Gallo found the shop in 1960, in 2007 he passed it to his son Marco Gallo.
The skilled hands of Luigi Gallo have in fact dressed people such as Stefano Accordi, Michele Placido and many others. Today his son Marco, is the tailor and manager of the shop. The watchwords and aims have remained the same: rich fabrics, craftsmanship and made-to-measure models, to create exclusive items that are as unique as the person wearing them. Elegant shirts and accessories with details, such as buttonholes and monograms, that are also made by hand.
I visited Sartoria Gallo and talked to Marco during my visit to Rome this Monday.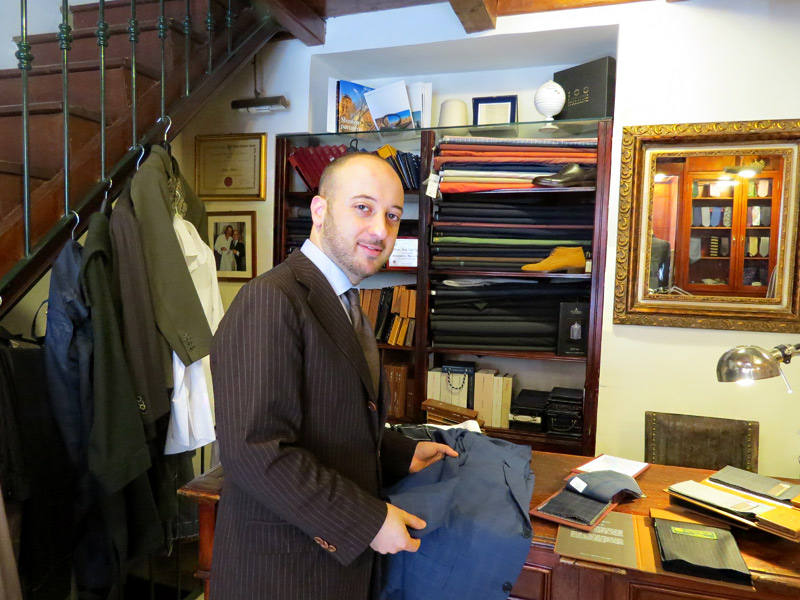 What are the latest trends in men's suit style?
The two-button jackets are most preferred right now and the double-breasted suit is a new trend for 2017. One of our expertise is to work with very light fabric.
Is it more difficult to work with light fabric?
It is very hard to work with light fabric, we also use it without canvass. It keeps the lightness of the fabrics. It is better for the shape. We invented the lightest jacket of the world. The lightest jacket that we made was 300 grams including buttons and everything. And you don't need to steam it at all, it always keeps its shape. All natural. Sartoria Gallo is famous now for this jacket.

What is the fabric composition?

It is from wool and 15% silk. The fabric weighs 130 grams (1 m x 1,70 m) and it is the lightest fabric you can get on the market. It is made by Loro Piana, one of the most significant  fabric producers in Italy.
Does it have a lining?
No, no lining.
For which time of the year is it most suitable?
For Spring and Summer. Very suitable for July, August, September. We invented it for very hot places.
What colors are preferred for men's suit jackets?
Electric blue, gray with blue pinstripes, very dark blue like night blue. Usually clients use the dark blue jacket with gray pants for example, this is classic Italian style. Usually clients get the whole suit in dark blue and they order additional pair of trousers in gray so they can combine the blue blazer with gray pants or use it as a whole suit.
Do you make also suits for women?
We focus on men's clothes but sometimes we do women's.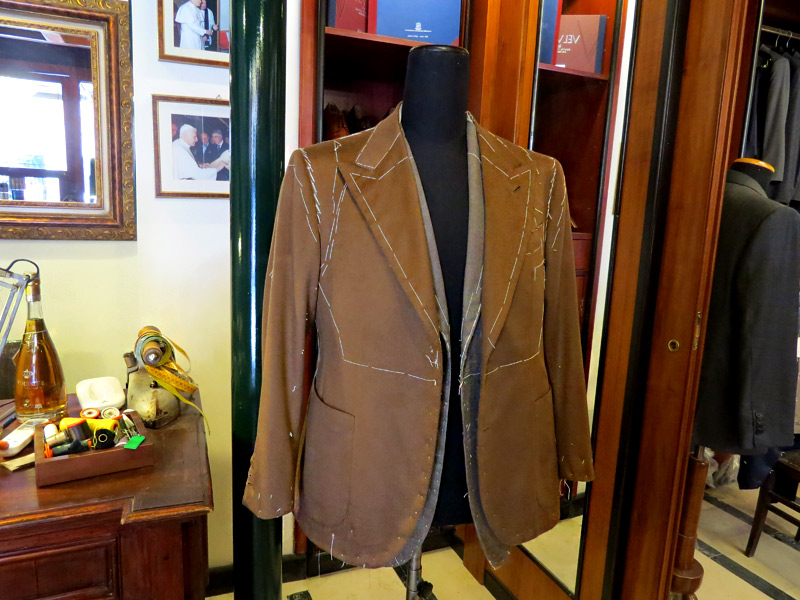 Do you participate in Pitti Uomo?
We don't have a stand but we are there every year to meet colleagues and partners like Loro Piana, etc.
Loro Piana is one of the most significant  fabric producers in Italy and it is the main sponsor of Luigi Gallo and the school, where Luigi Gallo teaches tailoring - SCUOLA EUROPEA DI ALTA SARTORIA.
Tell me something about your clients
Most clients come to our shop for passion and big interest for tailoring. Sometimes they just come, they don't even get anything new, they just wanna hang out, be entertained, talk about fabrics and style. For example, they need 3-4 new suits a year but they spend hours watching fabrics, even smelling fabrics.
Every tailor has his own line. And the client chooses the line, and the sympathy is also very important. If you don't like the tailor you don't go there. Its like a barber shop. Sometimes you just come and have a conversation because there is confidence and a pretty strong bond between the client and the tailor.
We try to recommend to the clients to have a few items in their wardrobe, but to have always the best, always the ideal items to wear.
For example there was a very important layer, our client, who just forgot what he had in his wardrobe.
He wanted to have something, but I told him "I know you have that fabric in your wardrobe, I am pretty sure, so try something else". "Yes, may be you are right, may be I have this in my wardrobe", said the client. And then he chose something else. This is an illustration that there is a pretty good bond between the client and the tailor.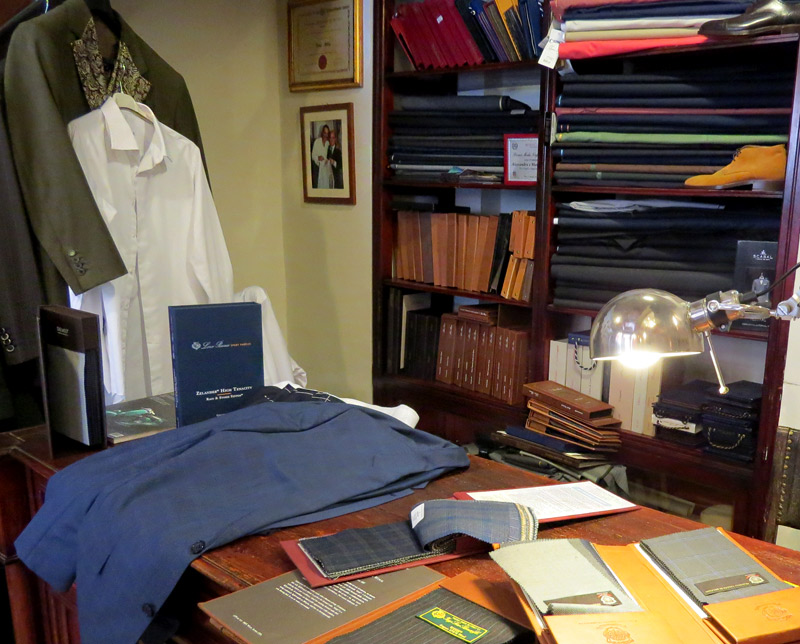 Photos © Be Global Fashion Network


Hits: 8736 | Leave a comment