High performance fabrics for tailored clothing
Performance fabrics are used more and more in tailored clothing. However, not many customers are aware of the fabric innovations. Do you know, for example, that there are fabrics that are waterproof, water-repellent, stain-resistant or wrinkle-resistant? Here are some high performance Zegna fabrics:
High Performance – Zegna's signature tropical cloth was created in response to the need for a wrinkle-resistant, all-wool cloth. Zegna developed a high-twist, super 100's that holds a crease well, wrinkles less, and drops wrinkles quickly; it has a smoother hand and softer drape than other tropicals. First produced in 1985, it still sets a standard for the entire class of crush-resistant wools.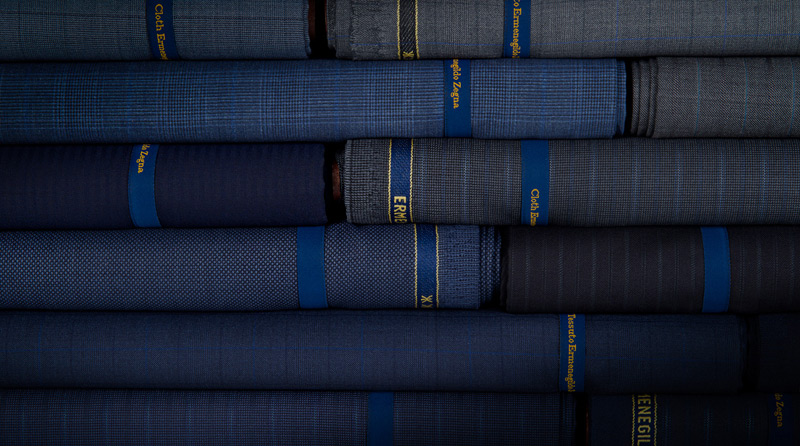 Trofeo® – Owing its name to the excellence of the raw materials used in making it, the long and soft Trophy winning fibers allows for the perfect performance for daily and prolonged use. Trofeo®, made of superfine Australian merino wool, are crease-resistant woven fabrics, that are reserved for impeccable suits, destined to last over time.

Trofeo® 600 – is a refined version of the acclaimed Trofeo® fabric. The most precious wool is woven with the finest silk 600 yarn, creating a fabric that is even softer and more lustrous. This makes Trofeo® 600 light and bright with a sumptuous hand.

Traveller µicronsphere – In observing the lotus leaves, science have discovered the fascinating quality that these leaves always remain clean, because dirt and water cannot adhere to their structured surfaces. Zegna has developed a new kind of finishing which enables a cloth to recover immediately from many kinds of stains while maintaining the original characteristics of softness and high performance of the Traveller cloth.

Cool Effect – fabric is woven with pure Australian wool fibers and is finished with an innovative technique that enables dark fabrics to approach to a significant degree the reflective properties of lighter colored fabrics. Laboratory testing has confirmed that a cool effect fabric maintains a temperature significantly lower than an identical but untreated fabric and reflects a higher percentage of the sun's rays, thus ensuring a cooler feel for the wearer, even in the hot season.


Hits: 6622 | Leave a comment