Peckham Rye finely tailored clothes and accessories - exceptional finish, high quality materials and enduring style
If you are looking for true British style and finely tailored clothes and accessories you should not miss visiting the House of Peckham Rye, located in Newburgh Street, just off London's famous Carnaby Street, which has long been the home of bespoke British tailoring.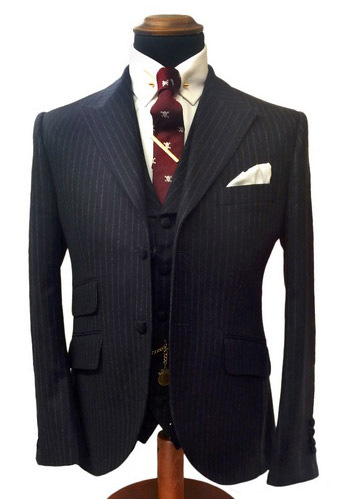 The 1938 suit

At their flagship store you'll find that their 200 year tradition of bespoke tailoring for gentlemen continues today. There are also ready to buy items and accessories such as ties, scarves, bow ties, handkerchiefs and socks.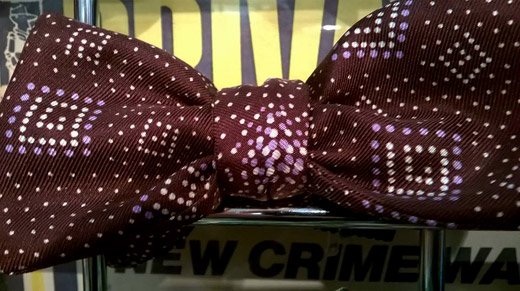 You can't go wrong with a Peckham Rye bow tie

Peckham Rye offers fully bespoke and made-to-measure suits. Working with many of Great Britain's most exclusive woollen mills and weavers, the family tailoring firm of Tommy & Charlie McCarthy is proudly assisting officers and gentlemen in creating lasting styles from quality weight woollens and fine super gauge cloth.

The enjoyable experience of ordering a bespoke suit or using the personal made-to-measure service starts by selecting the cloth's colour and weight. Then comes the measuring and discussing the various aspects of subtle finishes to be included when cutting - for example turned back cuffs (ideal for cavalry offices carrying the orders of the day to the front on horseback!), covered buttons, shawl collars, side straps and bar tacked hand sewn button holes.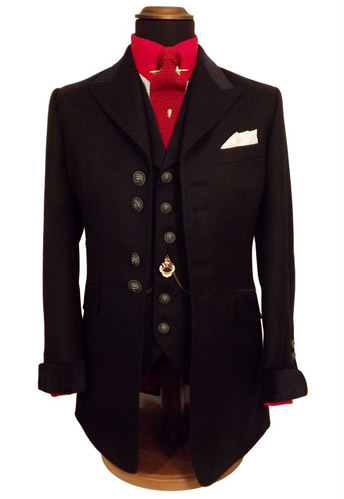 The Lion Heart - Side by side suit


Martin Brighty is the sixth generation tailor. I have asked him to comment what has changed in the fashion business and what does he think about fast fashion and made-to-order manufacturing and here are his thoughts:

'Much has changed in our world over the years, better production techniques and fabrics plus blends... but whats always remained is our brands ethos, that 'a gentleman should always dress just a little bit above his station in life and in that way people will think no less of him'.

With that ever present, we always feel that as much care and attention should be put into both made-to-measure and our ready to wear collections to ensure we meet the ever changing needs of our customers.

Fast fashion is something that we just dont really see a great deal of in our world... We think each person we look after has their own individual style hence the made especially for requirement still existing if not strengthening... some may think of this as fashion, others may regard it as under stated timeless elegance.'


Hits: 8355 | Leave a comment