Smart chic by Kristos Avraam
Kristos Avraam is on a 5 day practice at Richmart factory in Ruse, Bulgaria. He is a participant in the Men's style project, organized by the Men's Fashion Cluster and he is creating his men's suits collection for the project now. He described his models as "Smart chic" and revealed that his suits will be from two colours - a different color for the jacket and the trousers, which is a very popular trend for casual suits.
Kristos is from Cyprus, where he has his own tailoring workshop. He is a member of the Fashion Designers Association in Cyprus and he is the only designer there, who is totally dedicated to menswear. Recently, his models were included in a fashion show at the Presidential palace in Cyprus.
Kristos shared, that participating in the Men's Style project is a good experience for him, as he plans to grow his business and build up his menswear brand. At the factory he also had a training in measuring, fitting and alterations for custom suits.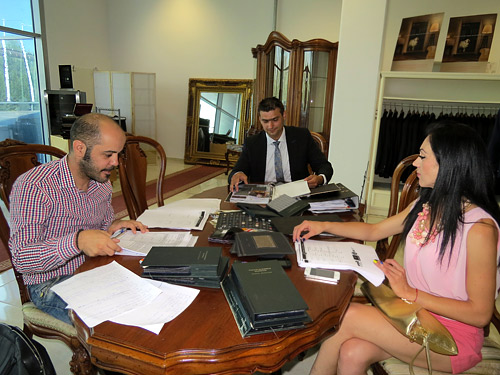 The Men's Fashion Cluster invites all interested fashion edsigners from Europe and USA to join the Men's Style project and plan their visit to Richmart factory for a free training how to develop their men's suits brand.

Photo:
Kristos Avraam (left), Dean Manev - Trade Director of the Men's Fashion Cluster, Unver Kiose (right) - Fashion designer, studying at New Bulgarian University, who also had a training at the factory


Hits: 5252 | Leave a comment