ZERO-TEX fabric at Rakuten Fashion Week Tokyo
ZERO-TEX is a multifunctional fabric for all situations. It is durale, breathable, antistatic, anti-fouling, water-repellent and much more. I was able to see and touch this fabric at Rakuten Fashion Week Tokyo. I met the designer Chieko Ikegami, who made a collection using this fabric and won the grand prize in the brand contest.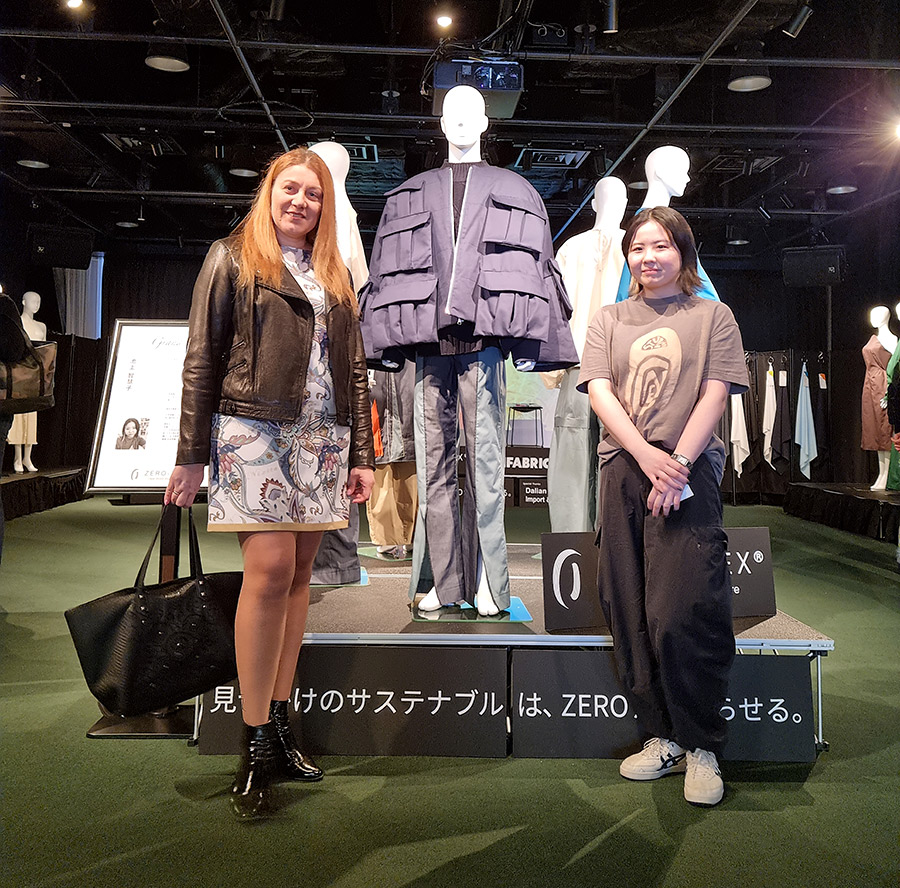 Silvia Kabaivanova, Editor-in-chief of Be Global Fashion Network and Chieko Ikegami, Designer
The second generation of ZERO-TEX® was developed using a non-fluorinated water-repellent agent that has been researched and developed using a proprietary formula. Even though ZERO-TEX® is more durable than its competitors, there are limits to its durability after repeated washing. Therefore, the company has introduced a system that uses RFID, QR codes, and a dedicated application to manage these limits and inform end-users of the washing cycle expiration date.
This is also a reminder that it is time to recycle ZERO-TEX® products. Wear it to the limit, and then send it on to be recycled.
Used ZERO-TEX is collected and chemically recycled into green hydrogen. This material is recycled in line with the SDGs, without emitting carbon dioxide in the process.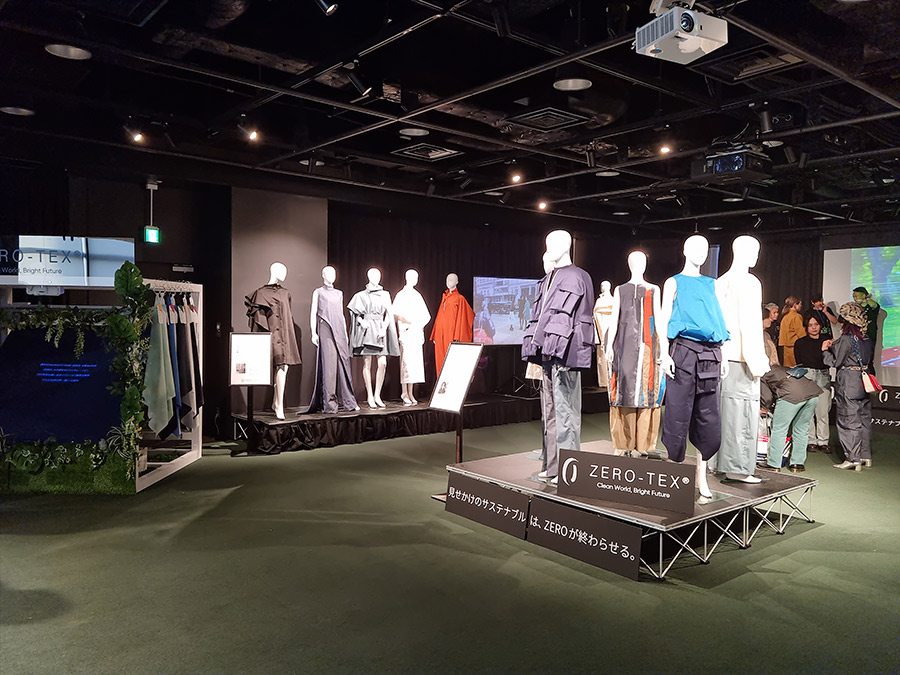 The most distinctive feature of ZERO-TEX® is its excellent durable water repellency, which is achieved through a unique production process and careful control of chemicals and temperature. This is due to the balance of adsorption force between the fabric and water, and ZERO-TEX® with such strong water repellency prevents the fabric from becoming soaked even if it gets wet in a sudden downpour, etc. The water repellency can be maintained even after 100 washes (tested by a third-party testing organization). It has been proven that the water repellency will not be lost even after washing and drying at home.

Utilizing the fiber structure of natural fibers, ZERO-TEX has excellent moisture release and breathability properties. This reduces discomfort caused by stuffiness and stickiness while wearing and keeps the wearer dry and comfortable. Because it is not post-processed, the original structure is utilized, so this functionality continues even after repeated washing, and the material is soft and durable against the skin, making it a material you will want to wear repeatedly.

By blending natural materials with low electrical resistance into the fabric, this material is less likely to cling due to static electricity caused by friction between the body and clothing, and less likely to cause static shock when touching something. While many materials store static electricity due to dryness, ZERO-TEX maintains a moderate level of humidity, so it can maintain a stable electrostatic charge even when worn for long periods. It is a material that is gentle to both the body and machinery, even when used in situations where precision equipment is handled, as well as in general clothing.

The highest grade in the stain resistance test JIS L 1919 (method B) has been obtained from the Quality Evaluation Organization. We have developed a unique method to maximize both stain resistance and stain removal by controlling the balance of hydrophilic and hydrophobic components of the chemicals used in the stain resistance treatment at the nano-level. Because this product is stain-resistant and it is easy to remove stains, it is suitable for all types of work. It is a stress-free material because you can concentrate on your work without worrying about stains.

Ultraviolet rays can be very damaging to the skin. ZERO-TEX is very suitable for UV protection and blocks UV rays well, even with white fabrics, which are easily penetrated by UV rays. Even in seasons and times when UV rays are high, ZERO-TEX prevents UV rays from penetrating through the fabric to the skin, and this effect is maintained even after repeated washing, making it a material that can be worn with peace of mind over the long term.

Read more at https://zero-tex.com


Hits: 5806 | Leave a comment