What is Cotton Flannel and How to care for it
A flannel duvet cover will keep you warm on a cold winter night. It is a soft fabric, which adapts directly to your body temperature and holds in the heat all night.  The difference with regular cotton is that flannel is made from a loose spun yarn that is woven into a linen or twill weave. After that, the flannel fabric is roughened so that it feels soft, woolly and delightfully thick. Flannel provides luxurious softness in a breathable weave.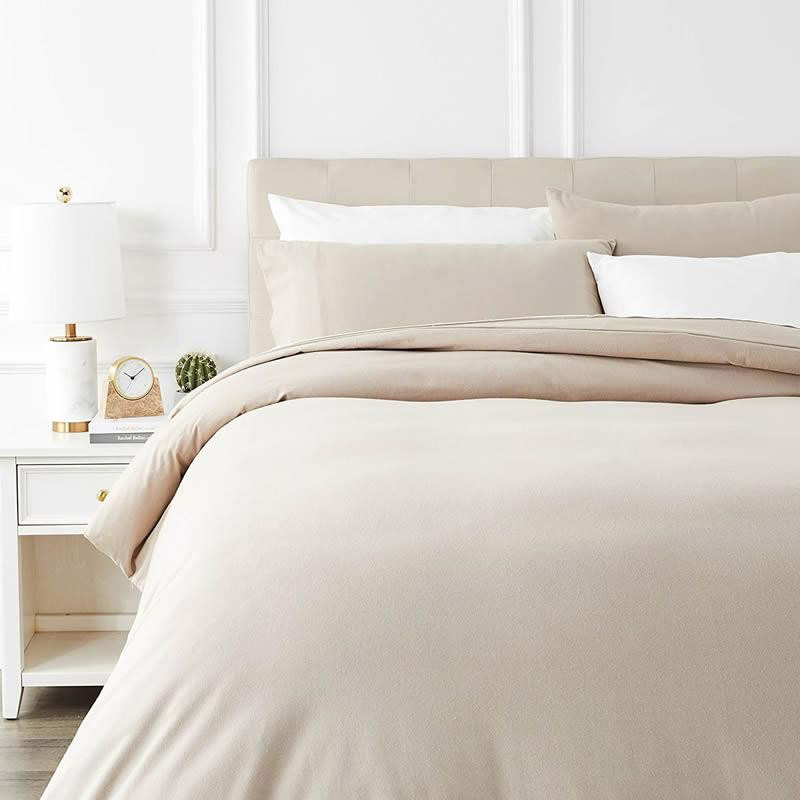 What are the benefits of flannel fabric?
The flannel fabric is soft and it adapts quickly to your body temperature. Your bed quickly becomes warm. The thickness of the fabric also ensures that it retains the heat all night. It is perfect for cold autumn and winter nights. Flannel is made from 100% cotton, because of this it is breathable and moisture absorbent. The fabric is also very durable.
How to care for flannel?
Flannel is machine washable and dryable for easy cleaning. You can simply wash a flannel duvet cover in the washing machine at a maximum of 60 degrees. They are also fine in the tumble dryer. However, for a smooth and wrinkle-free look, you should hang it out to dry.
Wholesale of Flannel Duvet Cover Set - Taupe

We have on stock 200 pieces Flannel Duvet Cover Set - Taupe, produced for Amazon. Very attractive price!

For the price and details please email office@bgfashion.net

The set contains:

1x Duvet Cover (90.6 in x 86.6 in / 230 cm x 220 cm)
2 x Pillowcases (19.7 in x 31.5 in / 50 cm x 80 cm)
100% Cotton

Hits: 5265 | Leave a comment