Style Tips For Mens Dress Shoes
An educated gentleman is well aware of the many different types of men's dress shoes, and the most popular styles include the Oxford, Derby Shoes, Brogues or Wingtips, Monk Straps, Dress Boots, and Loafers. There's always a pair of men's dress shoes that are suitable for smart casual to formal occasions.
All men's dress shoes aren't created equal. But you can find the perfect match with these style tips:
Wear Brogues Or Wingtips for Semi-Formal Functions or Smart Casual Events
Brogues or Wingtips are a must-have style for gents, which are smart and fashionable. Also, you can make your outfit more interesting wearing this type of mens dress shoes because of their unique perforations. Complete your look wearing a pair of Brogues for a semi-formal function or smart casual event.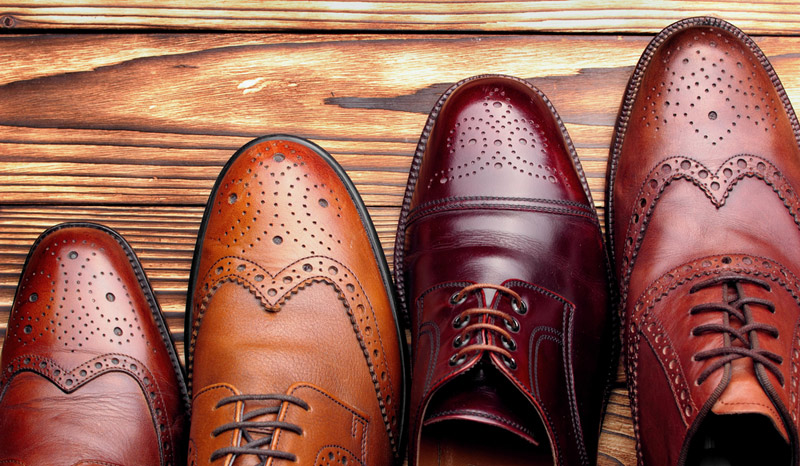 Check out this quick guide for men's Brogue shoes:
- Brogues with Pants: Wear your pair of Brogues with trousers or a pair of suit pants and a stylish shirt and blazer on top. You can achieve a more sophisticated look by wearing an elegant and classic pair of brogues. Look downright dapper with a slim pair of brogues in a classic color, like black, burgundy, or brown.
- Brogues with Chinos: You can partner your brogues with chinos for a smart casual look, which are elegant yet relaxed. Make sure to stick to classic colors for both your shoes and pants, and complete your get up with a simple shirt. Also, you can add a blazer and cuff your pants to expose your ankles.
- Brogues with Jeans: You can rock your brogues with jeans but keep things sleek and simple. Wear it with slim jeans in black or dark blue, and wear a more polished top, like a t-shirt and sweater or blazer, or shirt.
Go Casual and Sporty With Loafers
Loafers can be sporty without buckles or laces, which is a distinctive feature of this men's dress shoes. The characteristic of loafers are best described as "low shoe," wherein the ankle is exposed, with the sole separate from the upper part. The most common embellishments of loafers are metal "snaffles," tassels, or leather straps, with an upper vamp of moccasin-like construction.
Here are some styling tips with loafers:
- In a casual setting, loafers can replace any casual shoes, which add a dash of sophistication in a man's overall look.
- You can wear casual loafers with khakis and denim.
- Some men wear loafers without socks with shorts.
- Men's tassel loafers are a good first pair because you can wear it in any situation.
Knock Down Combat Boots with Dress Boots
Combat boots tend to be hefty and aren't appropriate to wear during formal occasions. You can instead opt for dress boots, which are slimmer, sleeker, and more snug than combat boots. Dress boots are ankle-length, and the less formal your look is if you wear dress boots with more details. For a casual look, you can wear dress boots with dark denim, a casual suit, or dress trousers.
Go Formal or Smart Casual with Oxfords
When attending formal events, like corporate meetings or conferences, Oxfords take the number one spot of the most formal men's dress shoe options. Also called Balmorals, high-quality Oxfords are usually genuine leather shoes with a non-rubber sole and a low instep. Oxford dress shoes are classic and timeless, so it's a must-have for gentlemen.
One of the most distinguishing characteristics of an Oxford is its closed lacing. This feature makes Balmorals the most elegant option for weddings, dinners, cocktail events, even work or job interviews, and other formal occasions. Also, a common embellishment for Oxfords shoes are cap-toes. The rule of thumb is that the sleeker the Oxford shoes or the slimmer is its width, the more formal and sophisticated it is.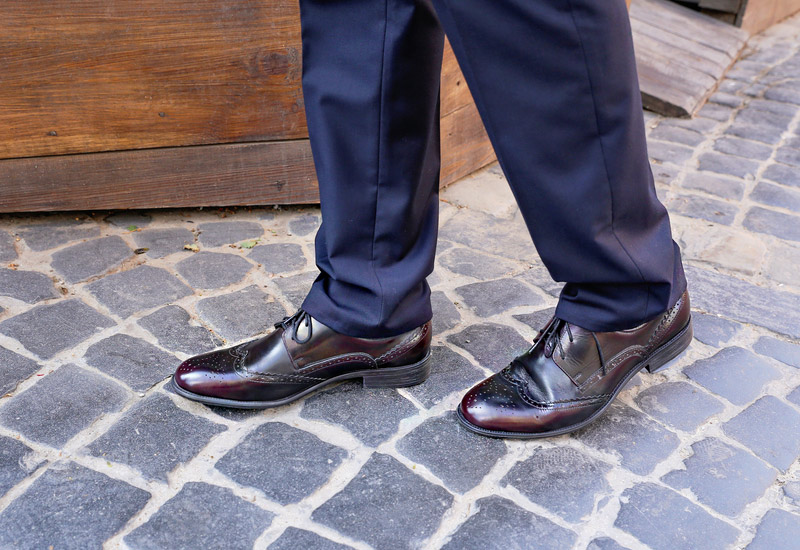 Here's a quick guide on how to wear Oxford Shoes:

- Oxford shoes complement suits and provide your outfits with a sophisticated look and dapper touch. Make sure you choose a black patent-leather pair. Oxfords make a smart footwear choice if you're wearing trousers or suit pants.

- To wear Oxford shoes for smart casual events, like parties, lunches, and more, match your Oxfords with a perfect casual pair of pants. In particular, dressy jeans or chinos will work well with Oxfords to achieve your desired aesthetic. Complete your getup with something comfortable on top.

- Keep your outfit coordinated by choosing basic colors for each piece. Chinos in brown, sand, black, or navy can easily suit black or brown Oxfords for smart casual wear. A long-sleeved button-up is perfect for a dressy look. If you want a more relaxed appearance, wear a t-shirt or short-sleeved shirt.

- Aside from suits, you can wear Oxfords with jeans. Tan Oxfords appear seriously suitable with blue jeans. For darker denim, such as black or indigo, wear brown or black Oxfords. Balance your Oxford shoes with a blazer on top or button-up shirt for an overall appropriate style.

Conclusion

Now you're ready to choose the best men's dress shoes for a formal, semi-formal, casual, or a sporty look. The fewer embellishments or decorations a pair of men's dress shoes has, the more formal it is. Also, you can wear Oxfords and Brogues for formal or semi-formal functions, and dress boots and loafers for casual events.


Hits: 8469 | Leave a comment