How to Elevate an Expensive Suit with Long Coats for Men
Any guy that owns an expensive suit knows that covering it up with an overcoat kind of defeats the purpose. You invest money into your suit collection because you're proud of the brand, the fit and the style. Layering a floor-length coat on top of a luxury designer suit almost feels like a mortal sin. But, what if we told you that you could actually elevate your suit with certain styles of long coats for men?
It's actually possible to look sharp in bespoke suits paired with mens fashion coats without feeling like you're hiding the best part of your outfit. You just need to find the right styling techniques that'll balance your suit-and-coat outfit.
Moreover, guys that are passionate about the suit scene don't want to throw on just any old coat that'll get the job done. It really comes down to looking and feeling your best. All it takes is one tacky overcoat to ruin your entire outfit. This is why it's just as important to shop on trendy mens clothing online stores like Differio with fashion-forward coats that make a statement.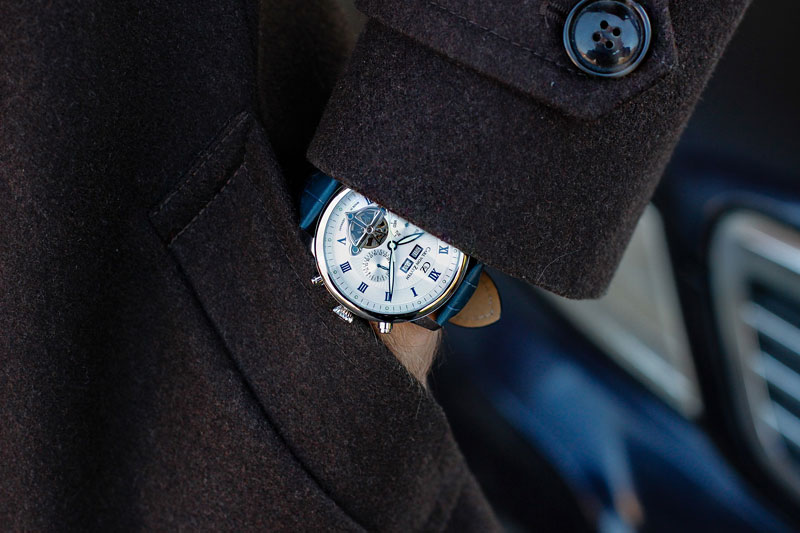 Here are some quick tips on how you can elevate virtually any expensive suit by choosing the right stylish mens coats to layer with. By following these simple style guidelines, you just might be rocking an expensive-looking coat without the high-end price tag.

Find a coat that makes a statement.

If you're trying to complete any outfit, one of the best ways to make your look standout is by going after statement pieces, including statement outerwear. Whether you're into embroidered graphics or floral print, a floor-skimming statement coat will definitely pull your suit together.

For an eye-catching evening look, you can try going for mens leather coats with military details, such as buttoned epaulets and sharp shoulders. These military-inspired accents add a more causal vibe to Matrix-like leather coats for men, so it's perfect for layering over suits when you're hitting the club or lounge scene.

Got a formal event like a wedding coming up? Instead of mens fashion coats with military details, you can upgrade your outfit with fur accents. Even if you're wearing mens faux fur coats, there's something about fur-like fabrics, like velvet and pony hair, that adds a luxurious feel.

You should avoid overcrowding an outfit with too many statement pieces, so stay away from statement coats if your suit is already designed in a busy print or pattern.

Style your coat unbuttoned or unzipped.

It might seem like a very simple styling tip, but wearing long coats for men unbuttoned or unzipped over suits makes a big difference. It showcases your suit style like the way a curtain frames a window. By doing so, it draws more attention to what's in between your coat, as well as what's over your suit. In other words, it's a win-win for both clothing items.

So, which style of long coats for men look best when worn unbuttoned? Since mens fur coats are generally bulkier, any type of floor-skimming outerwear covered in faux fur makes a great layering option. Aside from furry textures, you can also try styling your suits with mens leather coats. There's something about leather jackets that just look better when they're left open.

Of course, this styling tip only applies if the weather is mild enough to leave your coat open. You don't want to sacrifice your health over looking stylish for several minutes out in freezing temps.

Make sure your coat fits properly.

When it comes to suit style, fit is everything. You already know this is the rule of thumb for making an inexpensive suit look expensive. Since you're putting so much time and energy into the perfect fit, then you should do the same for your stylish mens coats.

One of the gripes about wearing long coats for men over suits is that it can feel overly stuffy. You're already wearing a fitted jacket so adding another extra layer can trap a lot of heat. To avoid feeling suffocated, you should find long-length outerwear with a little give in the fabric, like cotton blends with spandex or elastane.

If you've got your eyes set on a certain type of non-stretch fabric, then don't be ashamed to size up. There's nothing wrong with going up a size in mens fashion coats, especially since you're layering so much underneath them.


Hits: 8600 | Leave a comment