How to choose the right shoes for your new suit
Your shoes are not only meant to protect your feet and make walking comfortable, but they are also the base of a successful outfit. When you first meet someone you are going to check out their suit and their shoes before you make a first impression. In other words, the wrong shoes can break even the best outfit and you don't want that to happen during an important event! You need to know how to choose the right shoes for your new suit and here is the easiest guide on how to master this art.
Occasion does matter

We all dress to the occasion and this is one of the first things to consider when you pick your shoes and your suit. An outfit can be dressed up or down with a pair of shoes. For an important meeting you want to look professional, but not very formal, so you can opt for a blue or grey suit. Pair it with conservative shoes, like Oxfords. This will send a message to the people you meet and is a great way to play it safe, looking all put together.

If the event is more relaxed you can wear a pair of loafers with a light grey suit or even switch the pants with jeans, if you are allowed to. You can also mix a casual or semi-casual suit with loafers. They are seen as casual shoes, but a pair of leather Belgian loafers can be worn on a semi-formal event, like a business event or a date at a restaurant.

A formal event, like a wedding or a high level business meeting, asks for leather shoes in black. Black patent leather footwear is also a sophisticated option although they tend to come with smooth leather soles, so tread carefully! As nowadays you can get away with a little more, make a fashion statement by wearing brogues or buckle shoes, like monk shoes.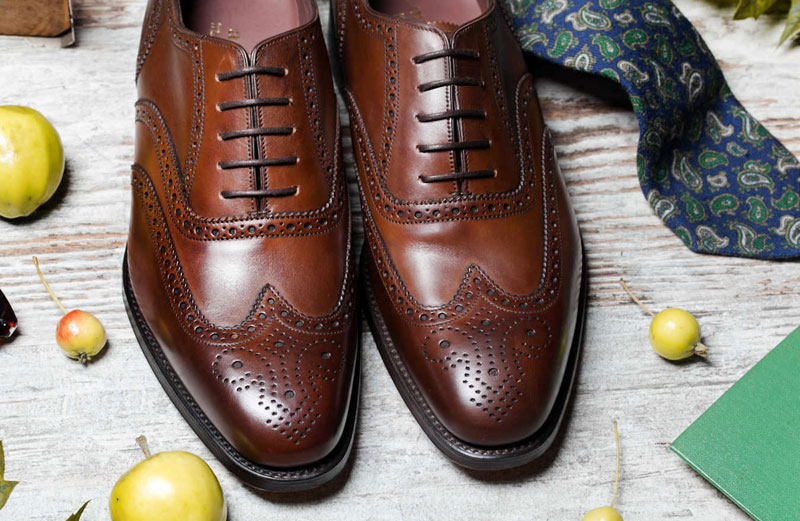 Play with different looks

You can easily dress up or down the same suit with different shoes, as you can play with different suits, while keeping the same shoes. Be creative when you mix and match! Shiny leather shoes bring a classic note to any suit, while suede shoes are more sophisticated, yet add a casual note to an outfit.

Take advantage of this and play with textures when it comes to shoes. Mix a semi-casual blue or grey suit with leather shoes to dress up your outfit or wear suede shoes for a more casual look. If you want to be bold you can wear an all-black outfit with shoes that have suede accents.

When it comes to men's shoes there are two types: lace shoes and slip-ons. Lace shoes are more formal than slip-ons, so you can take advantage of this and dress up a casual suit with a pair of lace shoes. At the same time, you can mix slip on shoes with a formal suit to be able to wear it at a more relaxed event.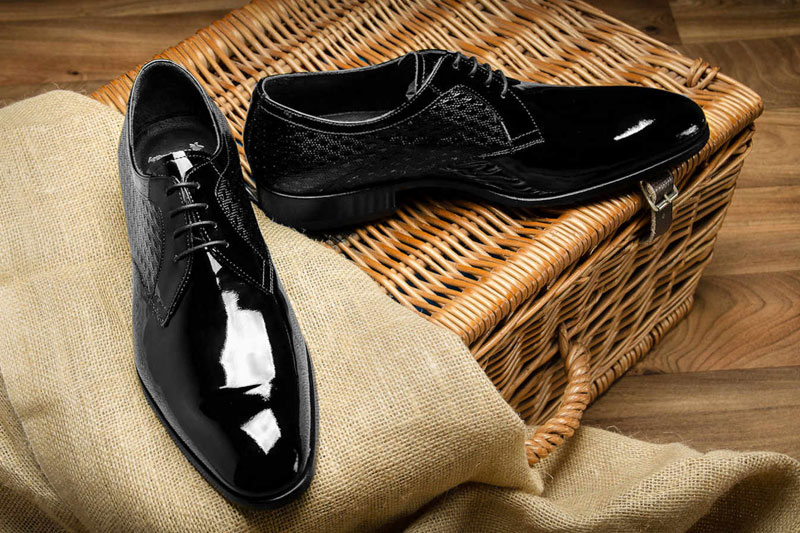 Color-coded outfits

When it comes to colors, most shoes come in three main shades: black, brown and oxblood. Suits provide a more versatile color palette but the most common colors are black, light grey, dark grey and blue. Beige and cream or tan suits are also becoming more popular and they can be matched with pretty much every shoe color. However, brown shoes make tan suits stand out, especially suede shoes.

Blue suits, which are seen in many offices, go well with black, brown and burgundy shoes, the latter combo being more playful, so you might want to keep it for Casual Friday.

Light grey suits, which are meant for casual settings, also go well with all three shoe colors. Dark grey is a little more demanding, so it only goes with black or burgundy shoes. Because this suit is more mature and elegant, it should be worn with formal Oxfords or leather loafers.

Brown suits mix well with brown or burgundy shoes, but avoid wearing them with black shoes. If you want to wear brown shoes with a brown suit you need to make sure the two have different shades of brown. If both the shoes and the suit are the same shade, the outfit can look too plain.

In the world of fashion there are plenty of rules to follow, but you don't have to know all of them in order to create a perfect outfit for every occasion. Invest in timeless, versatile pieces and then be creative when you mix them. Pay attention to colors and styles to choose the best shoes for your suit and you can't go wrong.


Hits: 7899 | Leave a comment