How to Create the Perfect Luxurious Work Wardrobe
Your career is one of the most important aspects of your life and taking pride in your appearance is a great way to make sure people stand up and take notice of you. The right wardrobe gives the impression of success and, with the right fit, can lift your confidence and further your career. Creating the perfect work wardrobe means finding a balance between quality, variety, and style at an affordable price, but luxury workwear is often the best way to go if you're looking to make an impact. Luckily, there is a simple formula to get the job done: 5-4-3-2-1.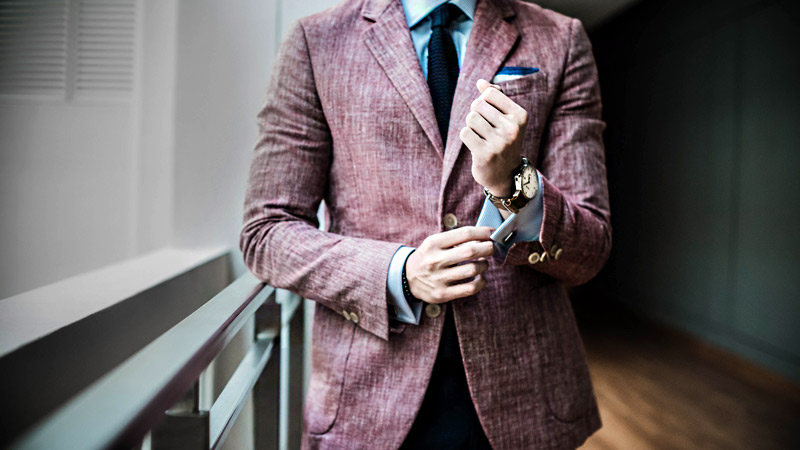 5 Shirts
You should have enough shirts to wear a different one every day. For the average working week, that's five shirts in different designs. Neutral colors are best to ensure they can work with your suits and shoes and a mix of Oxford button-cuff and French-cuff gives you some versatility.
4 Ties
Simple is the way to go to keep that luxurious and classic look. Plain colors like black and navy are safe, but if you want to mix things up, you can also include a bold striped one and a patterned one if that's your style.
3 Quality Suits
It's a general rule of workwear fashion that you should avoid wearing the same suit two days in a row. For a 5-day working week, that means you need to have three options to be able to mix things up. Some great color choices are grey, charcoal and a navy and in terms of fabric, you should be looking at high-quality wool or flannel. The cut and style are a personal choice, but tailored suits are ideal if you can get them to fit your unique body type.
2 Pairs of Shoes
Ideally, you need two pairs of shoes to ensure neither gets too much wear and to give you some color versatility. A black pair and a brown pair are the best choices you can make to keep your look professional. In terms of style, you can't go wrong with brogues, lace-ups or wing-tips. Shoe maintenance is crucial; the smartest shoes in the world will quickly become worn and tired without proper care and attention.
1 Classic Overcoat
A close-fitting overcoat made from quality fabric is essential to finish your professional look. Go for something in navy or black, so it lends itself to any outfit. A luxurious pea-coat from British, independent clothing manufacturer, Gloverall, would be perfect. The brand has a heritage of over 50 years in quality clothing for men, women, and children and can deliver to customers all over the world.

There you have it, the 5-4-3-2-1 guide to luxurious workwear. Following these simple steps will result in a versatile and quality wardrobe which never fails to impress. It's always a good idea to spend as much as you can afford to on workwear; you really get what you pay for in terms of durability, and in terms of perception you will give off the impression of success to your boss, colleagues, and potential clients. Essentially, you can further your career without having to say a word.


Hits: 4821 | Leave a comment