Dress like a Man: The Blazer
Modefabriek is recognised as a procreative and inspiring fashion trade event, proudly based in Amsterdam. Since its founding in 1996, it has evolved into much more. Today, Modefabriek is a mash-up of brand presentations, fashion shows, expos, stores, talks, classes, food & drinks, music – and more.
In the centre of EAST HALL - dedicated entirely to menswear- you'll find the DRESS LIKE A MAN platform. This winter's theme: THE BLAZER. This storytelling platform connects past and future with a blazer shop, live customizing on the spot, a fine piece of global blazer fashion history revisited and more.Spike Spijker will play the stylish host of the carefully curated and designed 'sartorial update', linking the history of classic menswear to current styles. He'll gladly introduce you to his choice of modern tailors;
Such as the men of Workhouse England, trained in classic British tailoring. Inspired by their restored 19th-century workshop in Suffolk, Workhouse England revives the raw atmosphere of the Victorian streets with its passionate craftsmanship. History revisited, with traditional English materials and techniques, so loved by Japanese menswear 'geeks' in particular.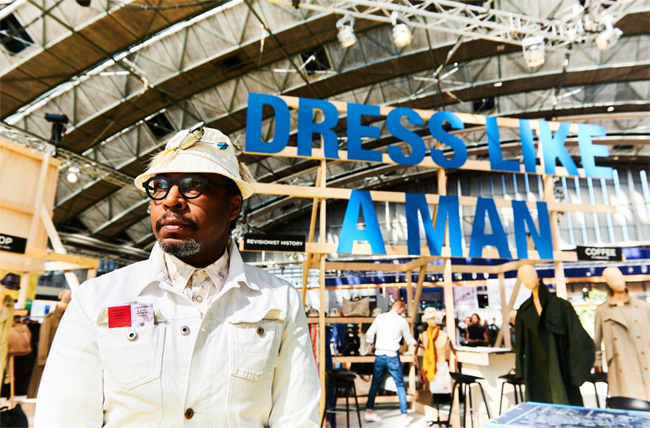 Tommy Page, designer and founder of Club Clothier, represents the authentic blazer and gives an insight into its heritage. "The modern man does not wait for fashion to happen; they seek out classics, acquire durable quality and mould it into perfect proportion for themselves."

Jouez les enfants
This on-growing collection contains unique vintage items and new design pieces. All perfect to wear with a blazer at work for daytime and without for some sporting in the evening. Jouez les enfants = garments for accidental athletes.

Simon James Cathcart
SJC is founded by Simon James Cathcart. The brand brings the best garments they can to you. Their goal is not to copy vintage directly but to merge the finest aspects of several pieces into one to create the best example of that piece you could wish for. And... flannel is king!

Revizionist History
His newest collection of bags seamlessly fits the navy aspect of the blazer. The bags seem to be part of the Royal navy uniform of the early 20th century, now reinvented into modern coolness.

LAGA
Laga is one of the first rowing clubs of the Netherlands and well-known for their beloved Red blazer. They'll show their long history through an installation, including a series of blazers and many other special items.


Hits: 5220 | Leave a comment