Winter fashion trends for the stylish man
Summer is now officially over, winter is in full swing and our attention has turned to the colder months ahead of us. For men, its time to start adding coats, hats, scarfs, and jumpers to the wardrobe and so we have put together some fall fashion ideas for you to take on:
Parka Coats – for all styles and weather
This is easily one of - if not the most - popular winter coats. Men's parka coats have been around for hundreds of years, taking inspiration from past military wear. Worn usually for casual occasions, the style has now evolved into the perfect everyday coat and does all the talking when it comes to your style.
It's heat retention features and warm synthetic fibre stuffing makes the parka coat the ideal choice for the stylish man this winter. It works with anything from jeans and a jumper, to chinos and a shirt – it's the perfect, versatile outerwear choice.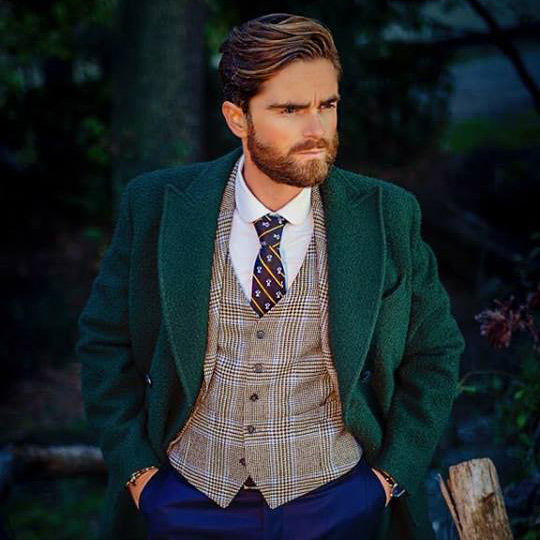 Autumnal colours – ditch the brights for easy neutrals
Summer is great for bright colours but winter is the time when a whole new palette comes into play - with shades of brown, red, purple, black, mauve, mustard and blue featured in seasonal styles. Of course, you can definitely choose to wear bright colours if that's your vibe but we recommend trying to limit this to one item – such as an accessory like a tie or scarf - and then tone down the rest of your outfit.

Looking for outfit inspiration? Grey trousers or blue trousers, a tweed jacket and a brightly coloured tie with a small printed pattern on it make for an easy pulled together look - whether you're off to work, heading out on a date night or have a family gathering in the diary. A colorful coat would be a great addition.  

Turtleneck jumpers – forego the scarf with this jumper style
Turtleneck jumpers have made a huge comeback in the last couple of seasons and it seems as if they are here to stay for yet another. There are so many variations of the roll neck available and they are the perfect clothing item when it comes to adding style and warmth. This knitwear piece can be worn casually or formally - style it with jeans, ankle boots, trainers, a duffle coat, you name it - it works with anything in your wardrobe.

Dark denim – give your jeans an upgrade
It's time to upgrade your denim and switch from a light wash to darker denim. It is so easy to style for the winter and you will get a lot of wear out of it. Jeans will always be the ultimate investment piece for any outfit - so don't skimp on the price and pick a slim fit that never goes out of style.

Joggers – casual style meets true comfort
Yes, you can wear joggers, but ensure they are fitted and structured. Look for styles that offer design features such as exposed pockets and zippers. Perfect for those lazy Sundays, when all you want is a roast dinner and to catch up with friends. The best way to style joggers for this season is with a t-shirt and a simple jumper or zip up hoodie thrown over the top, finish with a cap and a pair of white trainers.

Boots – keep ankles snug
Some men might be a bit unsure when it comes to boots, but chukka boots are definitely the best choice for the stylish man this winter. They come in just above the ankle in a range of neutral shades and can be worn with jeans or chinos. You can also enjoy the option of either suede or leather – depending on your style preferences.

Now you have an idea of what you should be wearing this season, it's time to revamp your winter wardrobe. Take on some of these style tips to find the right pieces to enhance your signature style.

Photo: Niccolo Cesari


Hits: 9051 | Leave a comment