We proudly interpret the Italian tailoring fashion style
Interview with Carmine Sansaro, Master Tailor of Sartoria Sansaro Rome
What inspired you to become a tailor?
- Since the age of 15 I've been introduced to tailoring by my father, Master "Pantalonaio", who made me an expert in cutting and then, after a long apprenticeship and exchange with other Masters, a true tailor.
Over the years the passion and dedication to creative crafts lead me through a continuous  self-improvement, ranging from classic to new trends, while retaining a strong handicraft mark that characterizes  made in Italy  worldwide, as well as a personal touch that makes my outfits recognizable.
What is the Sansaro Tailor's Shop style?  What is the process of ordering a made-to-measure suit?
– We proudly interpret the Italian tailoring fashion style and the roman one in particular. My tailor's shop is specialized into bespoke garments for men with more than 20 years of strengthened background tradition. This means to involve the competence of a specialized artisans equip. In our laboratory in Rome we realize: suit for ceremonies, wedding suits, coats, tights, tuxedos, and accessories as: shirts and ties all strictly hand sewn. In our tailor's shop even the smallest detail is looked after and created with the skilful care of the craftsman to exalt the inner peculiarities and distinctive features of each client creating a unique piece or art.
Do all customers come to your shop or you travel?
- We provide home assistance to our customers as well as we use to organize trunk shows outside Italy. We move often to most important European cities such as:  Monte-Carlo, Berlin, Cannes, Geneva, Milan. At the same time everyone is welcome into our showroom in Rome.
What tips can you give to men when they want to buy a suit?
- My tip is to ask to a proper tailor, he will sew a perfect suit to exalt your body characteristic using the best materials on the market.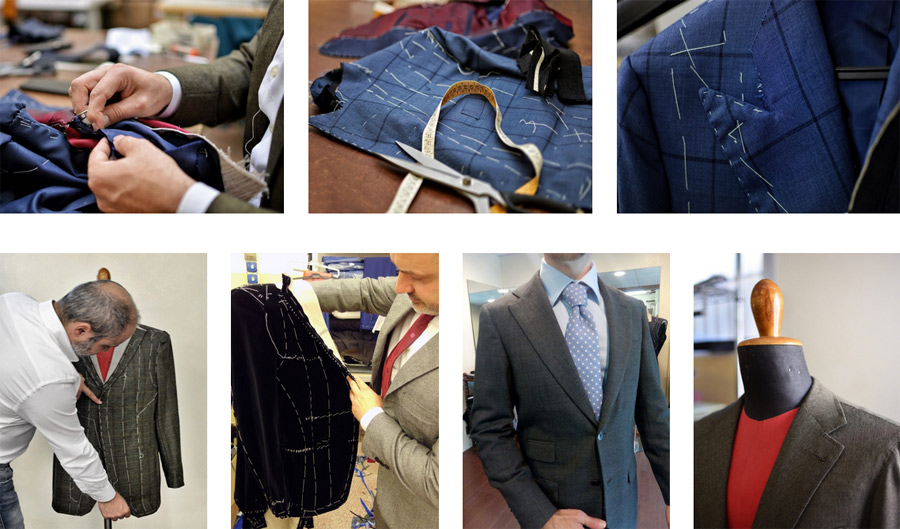 How should they choose their style?
- There's not a simple rule but it's important to interpret the personality of the costumer just driving his choices through best solution between fabrics/colours and the cuttings for the shape of the new suit.
Do you think that nowadays men are getting more fashionable and brave in their choices of men's suits ?
- In Italy there's a strong fashion influence and this by far. Even 100 years ago here the "well dressed" man was appreciated and this reflects our strong and deeply rooted sartorial tradition.
For those that are still not confident how to buy a suit, can you tell what makes a good suit?
- The formula is a matching point between the tailor' sewing experience and best fabrics. A sartorial suit must be appreciated in each detail, it fits perfectly on your body and you can notice the quality by touching it or simply watching the sewing points, pockets, inner parts etc. There's no comparison with the industrial products.
What is your formula for success?
We consider the success of our products as a result between the high and wise experience of the Italian craftsmanship and the sapient use of the highest quality materials. We treat wool, cotton, natural fibers, fine yarns looking toward the new fashion tendencies as well the classic ones. We use to work with the best Italian fabrics such as Loro Piana and Ermenegildo Zegna or English high quality ones: Scabal and Holland & Sherry.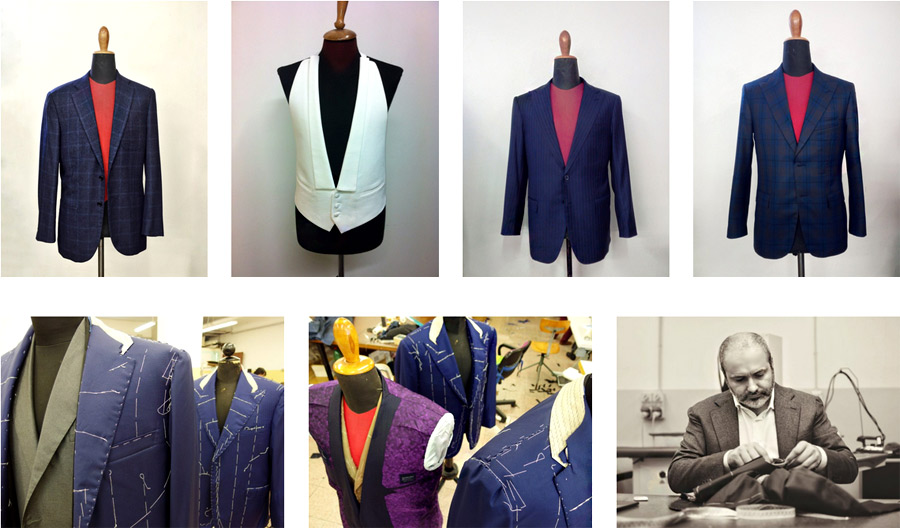 Are there celebrities, which are your clients?
- We use to dress up important personalities into big trademarks or politics too at the same time we work with dancers or Italian TV stars. Names are obviously confidential.

 Do you work with other young fashion designers, who want to follow your profession?
- Our is meanly a young workshop where an old handicraft tradition is handed over to the new generations through a team of young tailors, who come out of the specific schools and undertake this craft led by the Master. At the same time we appreciate collaborations with young fashion designers.

Sartoria Sansaro, Via Cristoforo Foppa 21, 00133 Rome, Italy


Hits: 5095 | Leave a comment