Theory Of Constraints is a journey where many of the body of knowledge can be applied
Interview with Anthony Fouque from Agilea - Expert in Supply Chain Management
Please, tell us more about Agilea. What is the company mission and main activity?
AGILEA is a company created in 2009 in Toulouse (France) focusing on the Supply Chain in Manufacturing and Retail. The main mantra of AGILEA is the induction of progress. Our mission is to help our customers to lead their transformation plans towards more agility. Our differentiator is how we transfer our capabilities to our customers to make them able to manage their transformation. Our team is multicultural and we have different offices in France but also in United States. We follow our customers in their journey wherever they are : Qatar, England, Marroco, Tunisia, Germany, Italia, Spain, USA, Brazil, Mexico, Switzerland, Finland, Poland and France, etc.). All of us have a truly industrial experience in Supply Chain. Some of us used to be Supply Chain Manager in Retail, Supply Chain project manager or Supplier development Manager in Aerospace industry, Operations and EMEA Supply Chain Director in Oil and GAS, etc.
To reach the success of our customers, we are devoted around 3 pillars: Training, Consulting and Technologies. All of our consultants are certified in many areas of our customers development (Theory of Constraints, Lean Manufacturing, 6 Sigma, Project Management PMI, AGILE, SCOR, etc.)
When did you start using the Theory of Constraints?
Our Theory of Constraints journey started few years back where we have been involved in Theory of Constraints for Production, Distribution and Critical Chain Project Management. We are lifetime member of the TOCICO community and certified in many aspect of the area of the body of knowledge (Supply Chain, Project Management, Problem solving and Strategy). We have many projects run and successful in those area in many market (retail, cosmetic, auto, aircraft, etc.).
Which is the biggest sthrength of the Theory of Constraints in your opinion?
The DNA of Theory of Constraints according to us is the Focus on Flow at System Level. We deeply believe that most of our customers want to improve the flow of products, speed up new design and make the difference on the market. That's why we developed specific offer and partnership with companies  wishing these kind of success with our tree pillars.
What are the challenges you are dealing with in your work?
We believe that Theory Of Constraints is a journey where many of the body of knowledge can be applied.
Usually when we develop relations with retailers, the main challenge is to position the inventory inside the distribution network. Usually, our customers have overstock in some products of the chains where, at the same time, the same products are in shortages somewhere else !! Secondly, our customers are sharing with us that most they have to buy big quantity to reduce unit cost while in the same time, the cash flow is a challenge for this market. Consequently, we are proposing to our customers to challenge the rules behind these practices using the Theory of Constraints Retail/replenishment solution.
On the other hand, some of our customers are good in the product flow, however they are facing lots of challenges to develop new design and release on the market quicker than ever. We mainly see Design and Taylor teams are asked to develop a high quantity of products many months before the release on the market. It represents a major risk for companies to act like that because of the uncertainty of the retail market. In such area, the project management approach of TOC called Critical Chain Project Management is one of the most powerful tool to reduce the time to market.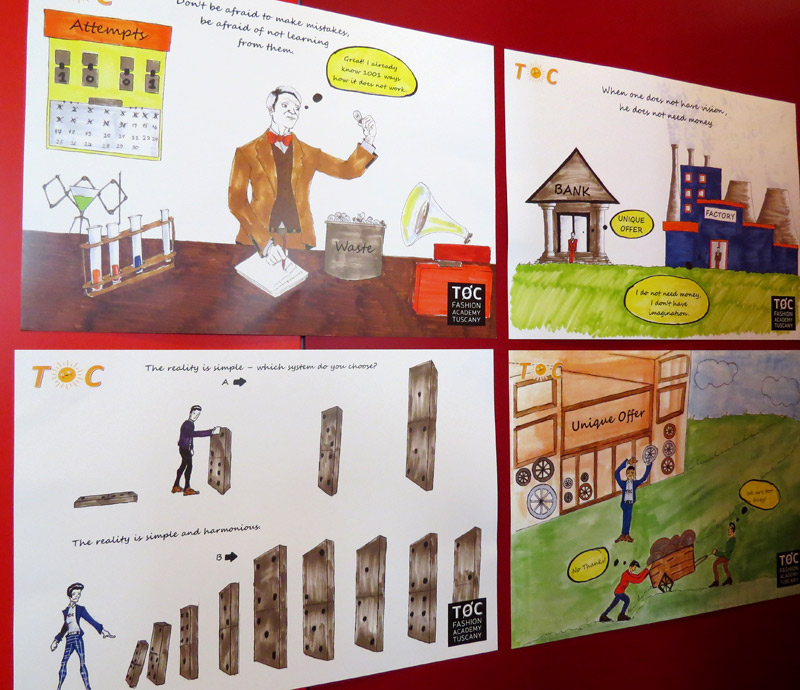 Which are your most successful projects?
The most successful project we consider having is when our customers said they can deploy projects by their owns with the knowledge they get from us! Recently one of our customers, a French multinational, announced they can and are ready to deploy the methodology we implemented with them in the 60 factories of the company ! This company is working in a distribution network where they were suffering of lots of shortages with high inventory always at the wrong place. So when the parts are missing, this company miss sales.  Moreover, when there are lots of inventory, sales are not achieved and so they had to make discount to "suggest" customers to buy these products. With our Flow Management approach, we decreased shortages by 30% and so Sales are up to 18% while inventory is decreasing (around 20% the last 6 months) !
One of the current case we have is a small-medium sized company wanted to drive its growth through new product development. When they produce a component, it is delivered inside the distribution network with all the previous risk mentioned. On a yearly basis, this company developed 5 new products with a limited growth (3%). They decided to change their way to develop new products and introduced the TOC Project Management approach called Critical Chain. In 6 months, they developed 95 new products without hiring. They are now much more agile with the market and their customers. Consequently, the 2017 year has a 60% growth in sales. The most interesting part of this case is that the team focused first on the policies, measurements and behaviors which where inherent to the company. They understood how multitasking, multi-project environment was not an alternative to the market needs but could be an opportunity to develop new products faster when they are strongly limited.
Finally, we are committed to develop breakthrough solutions for our customers to make them more agile and resilient in current VUCA world. For this reason, AGILEA has created a common R&D laboratory with a big French engineering school (Institut Mines Telecom). This labcom is working on Agility and Resilience in Supply chains in partnership with Polytech'Montreal, the Michigan State Institute and the University of Amsterdam.
For more information visit http://www.agilea.fr/fr/

Photo: TOC Fashion Academy


Hits: 2951 | Leave a comment