Checks for Business Formals
Bespoke shirts crafted from solids, pinstripes, and subtle prints have long been embraced as staples in any well-balance business wardrobe, while checks have been unjustly relegated to the ranks of weekend and casual wear.
Contrary to popular belief, checks are not only for cowboys, lumberjacks, and pensioners - in fact, checks rank among the truly classic patterns and include traditional tartans, houndstooth, and plaids. The key to creating the ideal check patterned bespoke business shirt lies in matching the right pattern with the correct colour and style.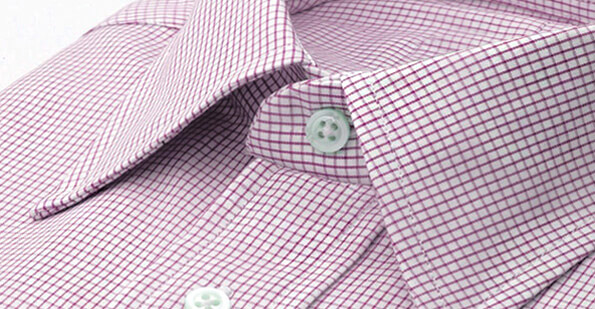 When choosing checks patterns for the boardroom, office, or other professional environment, think subtle - this isn't the time nor place for bold red-and-white checks in gingham or similar patterns. Focus on understated mini-checks, stylish windowpane checks, and fashion-forward graph checks.

As for colour choices, look for check fabrics that are nearly monotone, with an understated contrast between the fine lines and the colour blocks. This will make the check pattern obvious without being crass or overpowering in a formal setting. Think white-on-white, grey-on-white, or fine blue, orange, and grey checks crafted from premium 2-ply Egyptian Giza cotton with a poplin weave.

Here are some suggested fabric and colour combinations when designing your own custom business formal shirts using checks:

Grey on White: For a unique, confident look, pair a snappy Zamora grey-on-white Dobby weave lightweight cotton fabric with a 7th Avenue spread collar and French cuffs crafted from the same fabric to create a bespoke shirt that pairs perfectly with sleek dress trousers for the office.

Mono on Mono: Check shirts can be a little loud for business wear, but not if you tone down the volume by choosing a mono-on-mono fabric, or a fabric that features fine checks defined with barely-there colour contrasts between the checks and the lines. For example, our Artic Checks wears well in a formal setting, especially when worn with a classic fitted suit complete with a contrasting tie in a bold colour such as blood red, forest green, or royal blue.
Remember that when choosing a checked pattern for your custom formal shirt, it's important to pair it with solid trousers, since competing patterns like stripes will make your look appear disorganized and overly busy.


Hits: 4389 | Leave a comment