Ray Peck - a Visiting Tailor from Godfather Tailoring, London
Today we are going to present you Ray Peck - a Visiting Tailor from Godfather Tailoring, London. Here is what he told us about himself and his work:
"I began my career in tailoring when I left school in 1979 and started to work for Hepworths Tailors who were an old fashioned High Street retailer and tailoring company who later went on to become NEXT.
I watched the manager measuring his customers and I became intrigued at all the different fabrics, styles, measurements and intricacies involved in designing, styling, measuring and fitting of a man's suit and begged him to let me learn the skills.
It was a long time before he trusted me to even write down the measurements as he took them but gradually the trust grew and I helped customers choose their fabrics and styles and double checked measurements and learned the basics along the way.
Eventually I was sent on to a bespoke tailoring course in Leeds where I learned about how a suit os constructed, canvasses, foreparts, me;tons, storm collars, fusings, fabrics, buttons, warps and wefts, bastings etc. I was taught how to measure and more importantly, how to identify those awkward figurations, body shapes and postures. I passed the final exam with flying colours and at last I was a trusted and considered highly skilled bespoke measurer.
This was a fantastic apprentiship for me and after 7 years I moved on.
I have worked for Burberry as a Visiting Tailor and at Austin Reed for 15 years where I was bespoke and made to measure manager. I have since worked for various smaller businesses at a Directorship level but felt the time was right to launch my own visiting tailor business last year.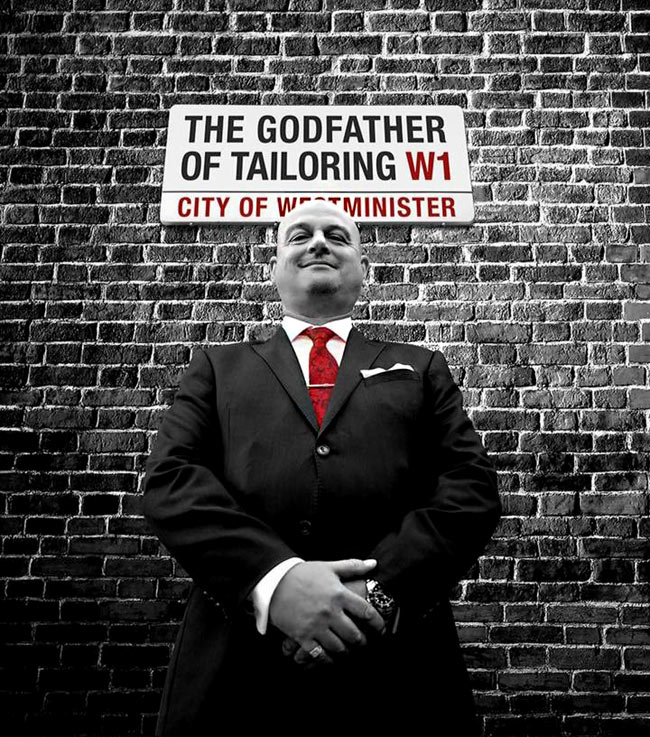 I have had the privilege to measure famous people such as England and Wasps rugby player James Haskell, TV horse racing presenter Nick Luck, Radio 2 and voice of the lottery balls Alan Dedicoat and Harlequins and Wales rugby legend Nick Easter along with many others over the years.
My business is called Godfather Tailoring. I chose the quirky name because it is memorable, different and because I was labelled "The Godfather of Tailoring" during a media campaign with one of my past employers and I kind of liked it!
My prime focus is to deliver the perfect tailored garment for my clients at a price that is affordable yet reflects the premium quality that my reputation and name demands. That is why I have opted to use a highly reputable manufacturer to produce my garments to the standards and agreed specifications that I have set. Garments are made mostly by machine to the highest of standards and precision and this enables me to keep costs below those of my Savile Row colleagues. 

All suits are half canvassed as a standard with an option for fully canvassed if the client prefers and wants an even better drape and performance from their garment.

I use the same fabrics that you will find on Savile Row from Dormeuil, Loro Piana, Dugdale Bros and many others and offer my clients a full choice of options from linings, embroidery, working cuffs, horn buttons, velvet collars, coloured button holes and pocket trims.... the list of options is endless along with the different style options making the client's garment truly unique and "bespoke" in the true sense of being made specifically and only for him.
I also offer a fully hand made bespoke garment for those who want to experience the look and feel of a traditional hand made garment.

As a visiting tailor I bring my 35 plus years of experience to your door, whether it is your home, office or club I will come to you by appointment at any day and time. This is a great option for those too busy to shop around or leave the office and a great way to treat yourself and make yourself feel a little pampered and as important as you are!

My philosophy is that I am not happy until I know that my clients are happy and I will never knowingly leave a garment with a customer that I would not be prepared to wear myself."




Hits: 10310 | Leave a comment