Top 10 Fashion Faux Pas, You Can Do Without
In a perfect world, "clothes do not make a man…", "a book is not judged by its cover" and  "You look good in anything you wear".
We…. however, live in times where Men's Fashion is a raging topic, an objective beast for all to covet and critique and representative of how seriously one is taken.
Appearances do matter!
Has there ever been a moment, you walked in feeling like a million bucks and in an instant the feeling of euphoria washed down by a dismissive and disapproved stare down?
Sad but a fact, fashion is indeed subjective and certain ways of dressing are more widely accepted over others.
We understand.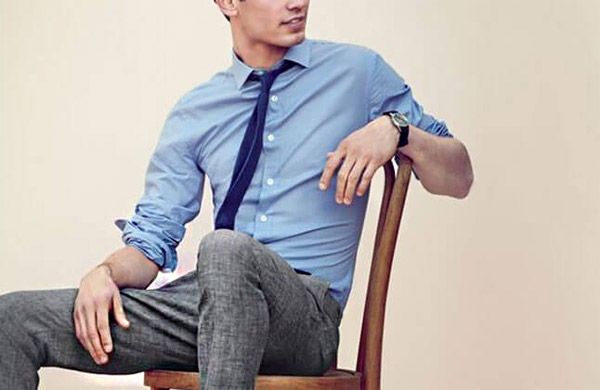 We say, you don't have to be a James Dean to be accepted, all you need to do is avoid these top five fashion bloopers and you're good to go…
The Fit: While most men of today are avant garde when it comes to their wardrobe, the essence of a good fit is still lost to many. A baggy look, oversized or droopy shoulders, long shirt-dress, a wayward shirt collar….the list is endless.  If you're aiming to create an impression, know this… you have unfortunately created "an everlasting one"! Right fit makes a world of a difference. An important rule of thumb is to have a shirt that fits you yet leaving enough space for arm movements. Off-the-rack shopping has it downside sadly. Which is why we recommend custom-tailoring, to get you the right fit for your body type. And you don't need frequent trips to your tailor to complete this daunting task. At Vitruvien, with the click of a few buttons, you can tailor-make your own shirt, with options to choose from in shirt colour, styles, fabric and fits.

Patterns & Colours: Not all colours flatter every skin tone and not all patterns compliment every 'body'. It's important to understand, accept and find what compliments you. There are rules that need to be followed.

Determine what skin tone are you and then shop for your shirt colour. Usually comes in three categories: Fair or Pale Skin, olive or medium  Skin and Dark Skin.

Don't go overboard with too many colours. Granted you might love colours… but let that not turn you into a rainbow Popsicle.  Limit your outfit to a max of three colours and coordinate it. Look up a colour wheel online if you get confused. And remember let your shoes and belt be of the same colour too.

Too many prints in one outfit is a strict no-no. That includes horizontal –vertical stripes combination as well.

Coordinate Patterns & Colours. A solid colour suit, with a patterned shirt and a subdued patterned tie. Or a patterned blazer with a solid shirt and patterned tie. And you're good to go.

Collar Your Way to a Cooler You: We urge you to not pop your collar out… that is a style better left to fashion runways only. Not to mention it does create a very wrong impression about you – one of nonchalance & ignorance. Also, there is indeed a collar for every face type and collar for every occasion. A spread collar for a classy event works best for a narrow face, while a short spread works wonders for a short neck and a preppy look. So choose wisely. It's also important to ensure how you wear your collars with a jacket. The points of a collar should never show beyond a jacket lapel's edge.

The Infamous Tie:  Most men tend to overlook an important accessory that can make or break you – the Tie-Mernator. Things to remember: Ensure the tie matches the entire ensemble. Ensure the style goes with the occasion, a slimmer tie for a casual outfit and wider ones for formal. Neck-tie proportion is very important. A large, well built man should opt for a wide and longer tie, petite man for a shorter one and slim-fit one. Colours are important too, if you want to scream power, red is your option against a light coloured shirt. If it's a sombre but sophisticated look go for semi-solids or light on pattern and shades of blues and greens. Tie-knot style must also be kept in mind depending on the collar style you're wearing

Finally the Fabric: There's a fabric for every occasion and every season. Irish Linen for the hot, humid yet elegant summer dos, Egyptian Giza cotton and its variants for a classic but formal look or a more casino royale look. Stay away from fabrics that give you the frayed look.

Then there's the: Go slow on accessorizing. Please watch the monogramming – It's an art and needs to be done subtly! Wear shoes that do not squeak, have a clammy shine or look like they were meant for elves. Smartly tailored pants that don't sweep the streets after you. And yes don't wear short sleeved shirts with ties. Just not cool!  
We promise, with these you're raring to go.


Hits: 4649 | Leave a comment