Playtime Paris presented children's trends for Summer 2017
Playtime Paris celebrated its 10th anniversary with family. Julie Malait decoded and set to images the currents that will permeate children's wardrobes.
For Spring/Summer 2017, let's pretend we're heroes navigating another dimension, tropical explorers or a maybe just retro-kitsch aficionados.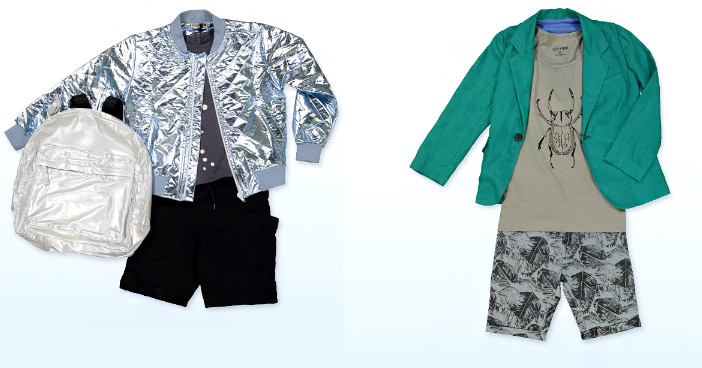 Cosplay
Teleported into another reality, children are turned into video game characters straight out of Final Fantasy or Star Wars. In their futuristic and minimalistic outfits, designed to endure sand deserts or dodge meteorites, they imagine wild adventures in other galaxies.
Materials: technical
Colors: meteorite gray, sand, dust, dabs of brights and neons
Patterns: constellation, mechanics, laser cutting, large netting
Key words: Cosplay, futuristic, sportswear, audacity, galactic, neo-cosmos, Star Wars, minimalistic, video games like Final Fantasy, techno
Key Pieces: windbreaker, jumpsuit, hoody, rucksack

Refresh
In the shade of tropical vegetation, under the giant leaves of a luxuriant jungle, children are playing hide-and-seek as they rediscover the joys of life in the wilderness. Their wardrobe takes on the form of a botanical garden where exotic fauna and flora invade their summer wardrobes.
Materials: natural, linen, cotton, organic
Colors: avocado, fuchsia, tangerine, off-black, lemon yellow
Patterns: oversized tropical flora
Key words: green fever, luxuriant, nature, raw, wild, exotic, botanical garden, philodendron, beetle, orchid
Key Pieces: short-sleeved shirt, bermuda shorts, straw hat, romper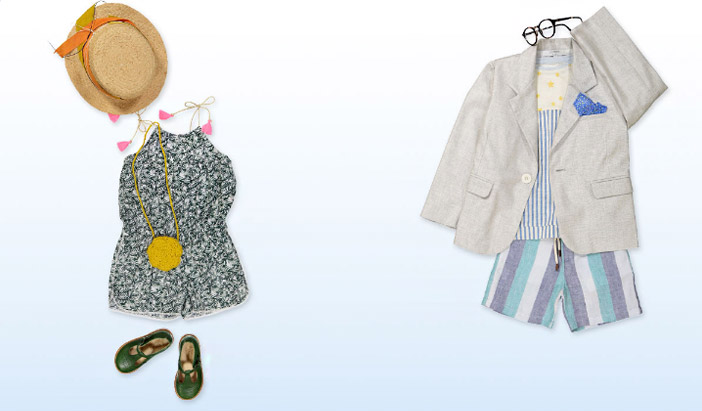 Replay
This summer will be deliciously regressive and optimistic. It's all about reinventing the classics of '70s casual chic and having a blast with the exquisite palette of macaroon and sorbet tones. It's like being in a Wes Anderson movie where children have fun with the codes of retro kitch: fantasy is de rigueur!

Materials: terry cloth, poplin
Colors: sorbet, sky blue, light pink, lilac
Patterns: small naive prints, mixed stripes, '70s graphics
Key words: regressive, authentic, revisited classics, optimism, Wes Anderson, retro kitch
Key Pieces: overalls, pleated skirt, work jacket, polo shirt

See more at //www.playtimeparis.com/en/trends/


Hits: 4110 | Leave a comment