Welsh and Jefferies - Bespoke London Tailors
*Interview with James Cottrell, Head Cutter
Welsh and Jefferies is a small but neat shop situated at number 20 Savile Row offering bespoke suits and coats. The Cut and Fitting are done under the control of Head Cutter James Cottrell, whom I met in July 2016 and interviewed at his Savile Row shop.
Welsh and Jefferies opened in the early twentieth century on Eton High Street, and during the First World War the company built a reputation as a formidable military tailor. In January 2012 the business was taken over by James Cottrell who has been working at Welsh and Jefferies for 7 years and his partner Yingmei Quan.

James Cottrell started his career in Kilgour at the age of 16. In the early 1980s James left Kilgour for a postion in Tommy Nutter's workshop which lasted 5 years. He then spent 18 years working at Henry Poole before accepting the position as head Cutter at Welsh and Jefferies.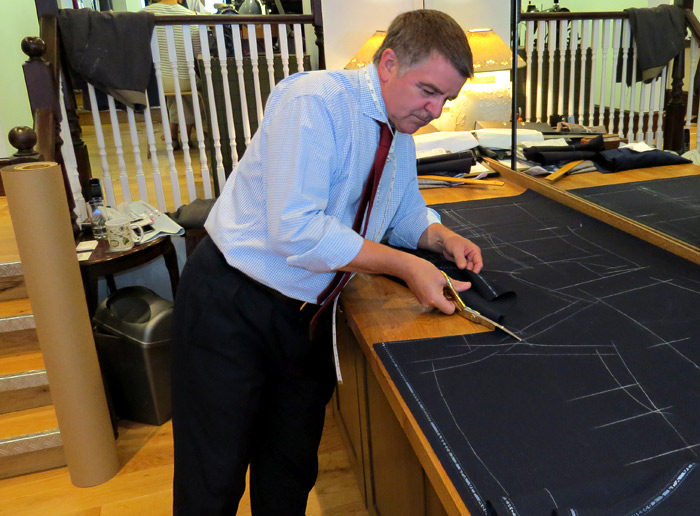 Head Cutter James Cottrell
What is the process of ordering a bespoke suit?
The process begins with the selection of the cloth, with the choice of thousands of designs, weights and qualities. We discuss and advise to create a defining style for the individual which will also be taken into account in the creation of the paper pattern. The second stage of the process involves taking a series of measurements, analysing the gentlemen's form and figuration. All the gathered information is taken into consideration when we produce a unique hand cut paper pattern for the individual. Once the cloth has been cut, a preliminary baste fitting is produced where the new suit starts to take shape on the individual's body. Any alterations are updated on the paper pattern for future clothes to be produced more rapidly. For new clients, there should be no more than 2 fittings for the first suit, then 1 fitting for any further garments made.
What is the house style?
The house style is quite slim, semi-military, with square shoulders. We use fancy linings.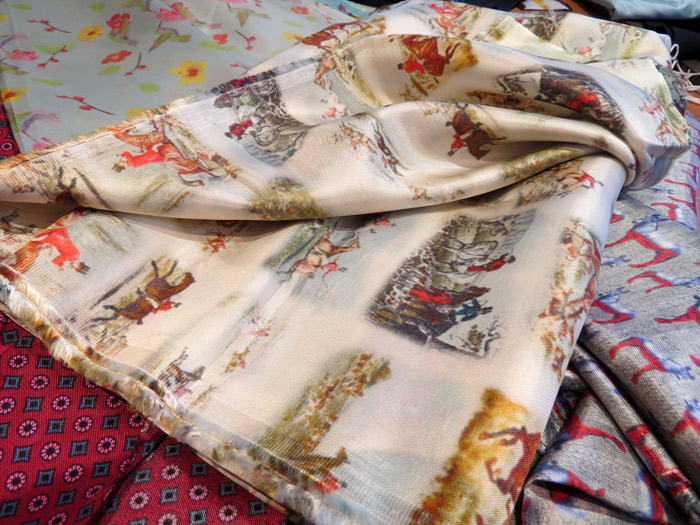 What are the trends in suits now - the style, colour, details?
The trends for suits at the moment are slim fitting with a clean line around the chest and no drape at the back of arm holes, with a narrow shoulder and sleeves nipped at the waist close over the hips and a shorter jacket. Trousers have no pleats, a plain front tapered legs no turn ups, giving a long slender look.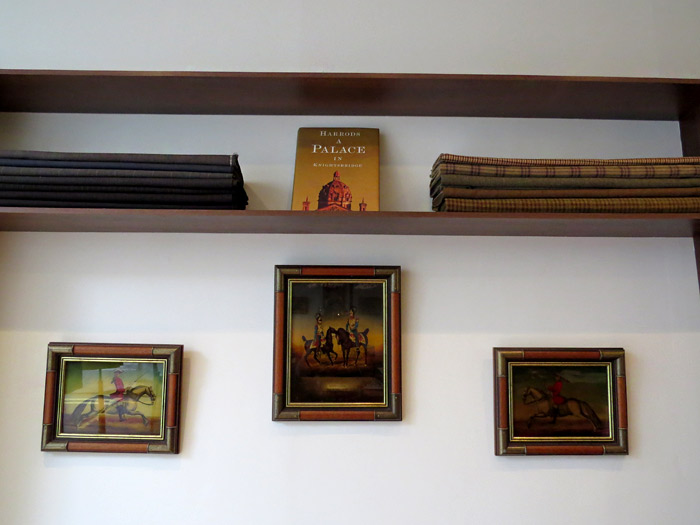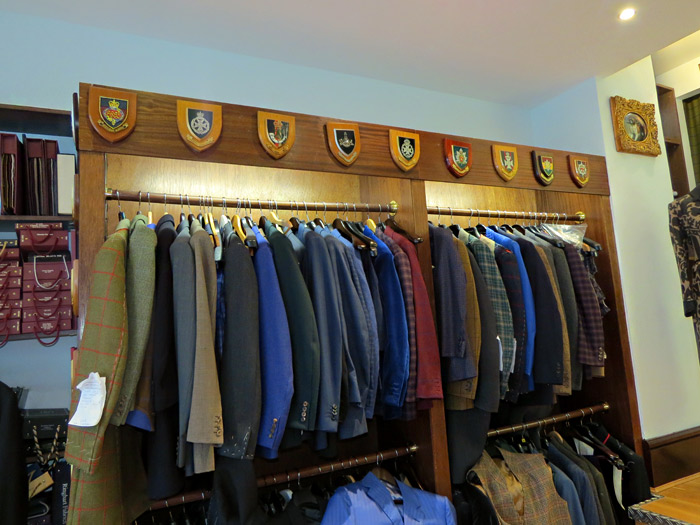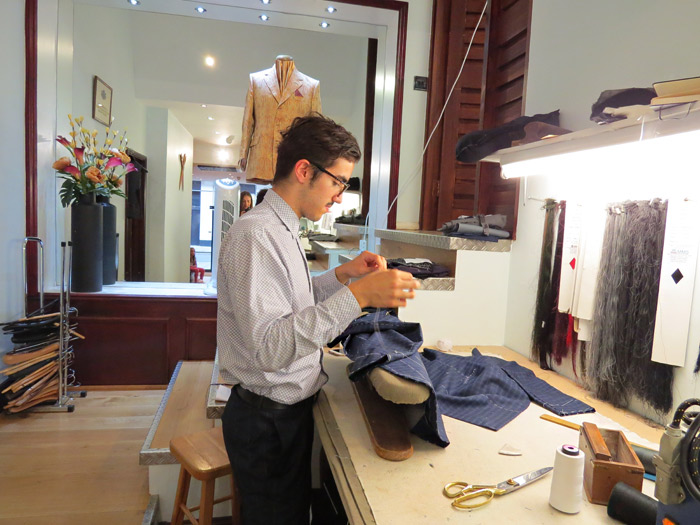 Do all customers come here or you travel?
The company regularly travels to Switzerland, New York and severall cities in China. If there is sufficient interest shown we would be prepared to travel to other cities within Europe.
Do you agree that the black tie dress code should be changed so that men do not look the same on formal events?
I think a black tie event should keep to black or midnight blue, by keeping it classic it looks so elegant and timeless and always works so well at events such as the Academy Awards.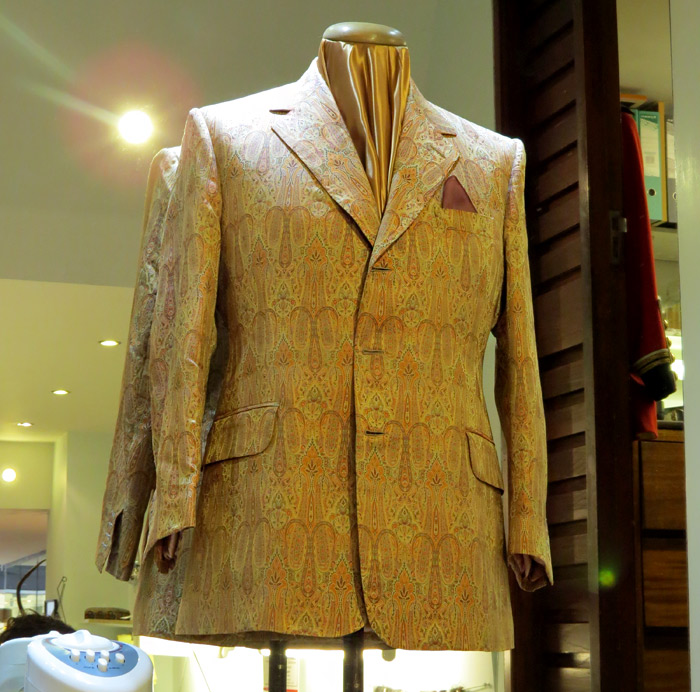 A suit in silk for the "Guiness beer" family member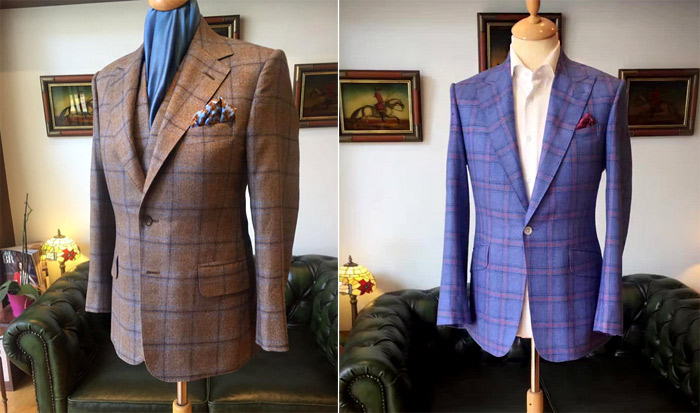 Windowpane checks are a very popular pattern for men's suits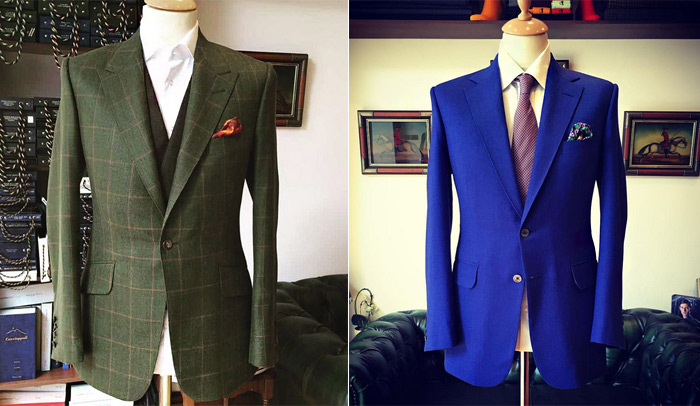 What tips can you give to men when they want to buy a suit? How should they choose their style?
I believe men should choose a suit by looking at what colour fit and style is best for their shape and height. Slim fit looks great, but do bear in mind it's not always the case when it's looking to small and constricting, colour is important choose something that is flattering rather than what everyone else is wearing. Blue is very popular along with mid grey.
Look for the detail of the hand work, such as the stitching on the front edge lapel and around the collar as this is most noticeable to that person when you want to make that all important first impression. Look at the button holes, machined ones have that flat look where hand ones just sit on top of the material then you can see the difference of a well made suit.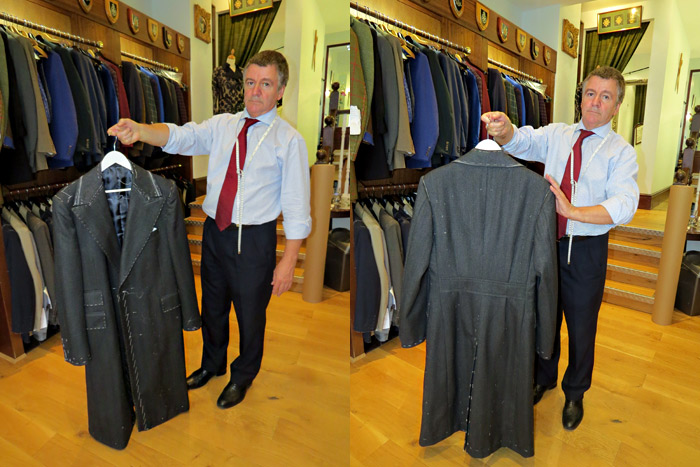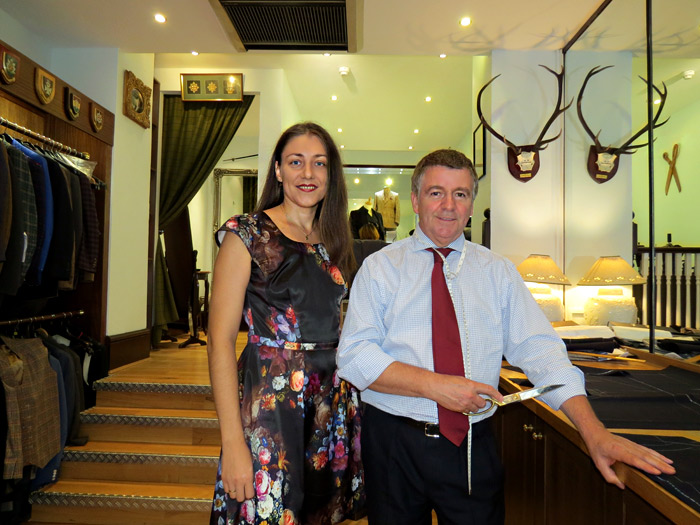 Silvia K., Editor-in-chief of Be Global Fashion Network and James Cottrell, Head Cutter of Welsh and Jefferies
20 Savile Row, London, W1S 3PR



Hits: 10704 | Leave a comment