What a suit can do for you. Top 5 best men's makeover youtube clips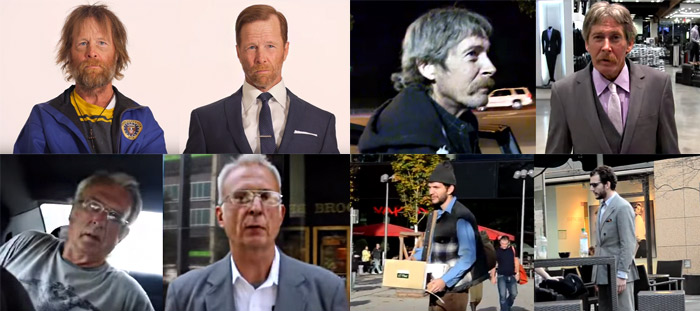 I think if you read our site there is no way that you don't believe in sayings like "Clothes make the man" and ''A gentleman understands the importance of first impressions''. However, it is always good to watch an inspiring video and understand what a makeover really does to men. We have selected 5 videos that illustrate that very well.
Take a look at this video, showing the amazing transformation of U.S. Army Veteran Jim Wolf who has struggled with alcoholism, poverty, and homelessness for decades. At the end of the initiative he looks handsome, stylish and exquisite.
Homeless Veteran Timelapse Transformation
The next video also shows a makeover of a homeless man that looks great in a suit.
Homeless Man Xmas Surprise Makeover
The next two videos are a social experiment - the first shows that people are more likely to help and give money to a good looking guy in a suit rather than to a homeless man.
They Put A Homeless Man In A Suit And He Asks For Money On The Streets
In this experiment, a man initially goes around asking for change, dressed in a suit. Right after, he puts on other attire, to appear to be living on the streets and asks people, whether he can give them money. Nearly everyone he spoke to, upon laying eyes on him, ignored him completely. What a miracle your best mens suit can do for you!
HOMELESS VS. SUIT SOCIAL PERCEPTION EXPERIMENT
James has an amazing story! He went from being a rock star to flat broke to a CEO of a million dollar corporation. He ended up building the #1 most recognized company in his industry. He went from zero to hero in 5 years. Aaron Marino of alpha m. is amazed by James' place - it's the ultimate bachelor pad that's super sexy. James and Alpha also tour his work space.

James has to let go of the rock star look. Alpha takes his vest first (which should have died with is music career). Then they start by going through James' wardrobe, finding his suits first.

James tries on one of his suits. Everything is wrong - it's too big, three buttons are dated, the pants are pleated with cuffs. The shoes look cheap.
James is a bachelor, so Alpha has him try on an outfit for when he goes out. The outfit makes him look like a *huge douche.* The shirt kills it, and the jeans look huge and dirty. The shoes look worn-out.

James needs a wardrobe that projects confidence, whether in the professional environment or with the ladies. They start at Suit Supply and visit many other stores. They go back to James' place to put together some amazing outfits: suits, shorts, jeans, everything he needs.

James wears the most sexy suit he's ever worn. He looks perfect, off the rack! It's medium blue pin-stripe that's edgier than navy. It's fitted, mid-rise, and paired with monk strap shoes. James feels great! Next, the charcoal suit is more conservative and looks great with a simple medium blue shirt and pocket square.

From Rock Star to CEO: Alpha M Project


Hits: 5154 | Leave a comment