5 tips for buying made-to-measure suits
Made to measure refers to clothing that is sewn from a standard-sized base pattern, however made-to-measure garments are constructed to fit each customer individually. The fit of a made-to-measure garment is superior to that of a ready-to-wear suit, because ready-to-wear suits are constructed to fit the manufacturer's definition of an average customer. The primary benefits to the customer of made-to-measure clothing are that the garments will be well-fitted to the customer's body and he may have the opportunity to customize the fabric and detailing. Here are some tips to follow when you are buying a made-to-measure suit:
1. Don't try to take your own measurements
It is not so easy as you might think to take your measurements on your own. Ask a friend to help you or go to a local tailor. If not, at least watch videos and guides on how to take the measurements. Have in mind that different brands have a slightly different way of measuring and interpreting measurements.
2. Research the type of look you want carefully
Do you want regular fit or slim fit suit? What lapels do you prefer? Pockets, vents and other details are also important. If you need help, check our guide ABC of the Men's Suit - complete guide to men's tailored clothing.
Select the color and model that you will be comfortable with. You should wear your suit with confidence.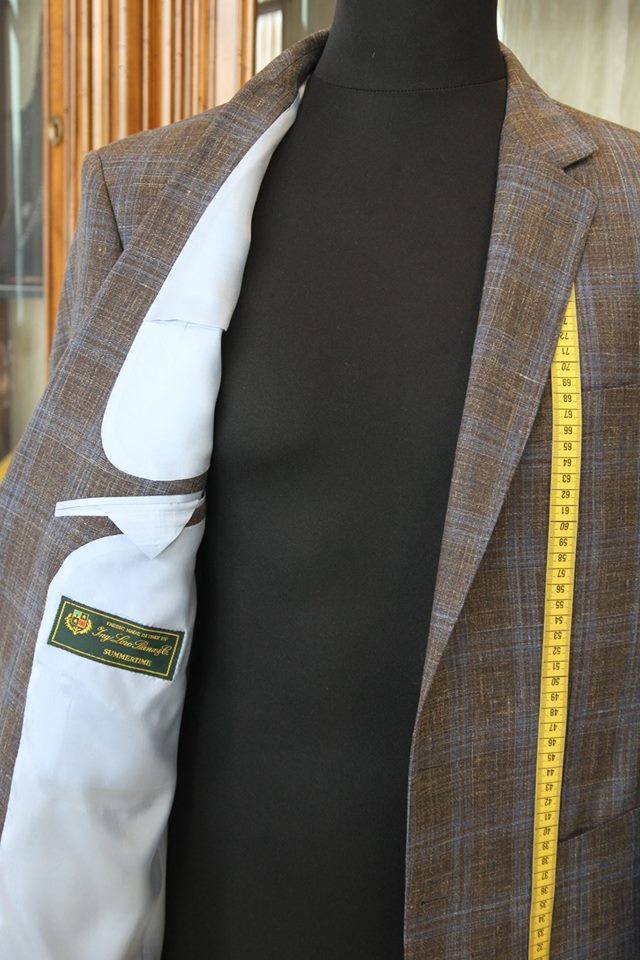 Made-to-measure suit by Richmart

3. Research the makers

If you have in mind a certain look, see where you can get it as not all makers can offer everything. For example, you may want a Neapolitan shoulder or hand stitched button holes that are not typical for the made-to-measure suits. Then you may have to consider ordering a bespoke suit.

Check also what fabrics do the brand or the tailor uses. We recommend you to select a suit made from the best Italian or British fabric mills. Most of them are presented in the fabrics section of our site.

It is also very important where the suit is produced. I recommend you to look for a suit that is produced in Europe.

4. Should you get functioning buttonholes? My answer is definitely yes, because in this way you will show a good style and taste for quality. Functioning buttonholes are a sign for a custom made suit. Just have in mind that functioning buttonholes make alterations to sleeve length much more difficult.

5. Don't be afraid to ask for alterations and remakes

When you order a made-to-measure suit, it should fit you. Many makers will either make the alterations themselves or give you a credit to have the alterations made.


Hits: 3532 | Leave a comment