Henry Herbert Tailors change the way bespoke tailoring is delivered
Charlie Baker-Collingwood is the creator of Henry Herbert Tailors, a small London based tailoring firm. A common question he is often asked is "where were you trained?" Henry Herbert tailors have a rich history of tailoring. At first Charlie learnt from others – watching them at work and involving himself. He has since cemented this, learning jacket making at Morley College (London), Trouser & Waistcoat making at Central St Martin's and sewing skills at City of Westminster College, where he obtained his City & Guilds qualifications. But just who is Henry Herbert? Henry Herbert was once master of the royal wardrobe to King Charles and the name was resurrected in order to continue the tradition of fine English tailoring, at affordable prices.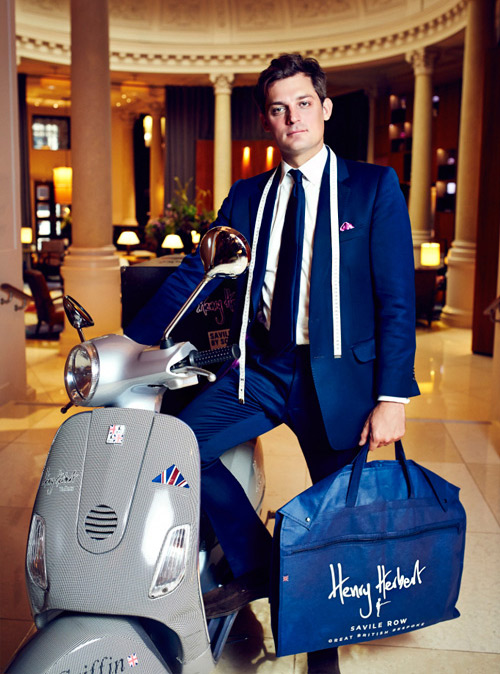 Do you think that nowadays men are getting more fashionable and brave in their choices of men's suits ?
Menswear has always been at the forefront of evolving trends and changes in fashion. From the wide lapels on suits in the 1970's, to the very slim cut one button jackets of the 1990's, men have always been ready to adapt to new changes in styles. And I would say the modern gentleman has carried on this tradition – today we see more gentlemen, of all ages, choosing waistcoats to go with their suits, choosing brighter colours and patterns and some even as being as risqu? as choosing different cuts altogether – from double breasted suits to Nehru jackets.
Do you agree that the black tie dress code should be changed so that men do not look the same on formal events?
The most important rule for black-tie is for gentleman to dress in whichever way makes him feel good. Whether it be double breasted, single-breasted, white jackets, midnight navy jackets, different cuts of lapels or trimmings, everyone will have their own choices they feel comfortable with. And so I think if more gentlemen chose to wear what they really want to wear, this would naturally break the black-tie style rules a little and as a result, break up the stuffiness of such events!

Do you like the idea on the next Academy Awards all men to wear colourful suits?
I am absolutely a huge supporter of more colour in suits. Perhaps no one can teach us better than the dandies of Brazzaville, with their popularly known "Democratic Republic of Style". You can find some great colours without incurring a great expense, but unfortunately we still have a limited number of British mills offering such exotic colours. And so for the Academy Awards to offer themselves as an Ambassador of colour should be congratulated.
What are the fashion trends in men's suits for the coming Spring/Summer season?
As bespoke tailors, making every suit from scratch, our own customers may choose something that may not be finished and delivered until several months later, because of the long processes involved in bespoke tailoring. And so for such bespoke customers, a timeless colour and style is important. But for this summer, we are already seeing an explosion in requests for colourful seersuckers and linens – so more colour in more comfortable fabrics.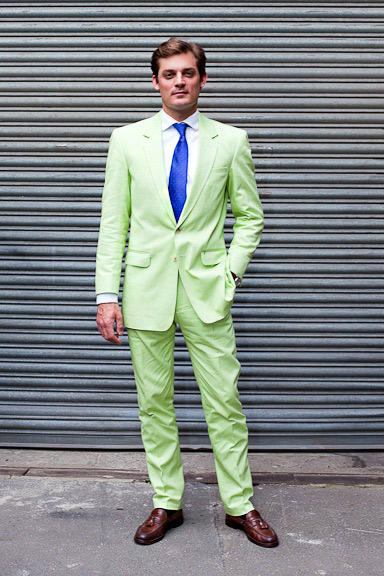 All Henry Herbert Tailors are fully trained motorcycle riders and you offer a 'one-of-a-kind Savile Row by Scooter service'. How did you come up with this idea?

I created Henry Herbert Tailors to change the way bespoke tailoring is delivered. Why, I thought, should the customer have to go to the tailor during unhelpful hours (normally Monday-Friday, 9am-5pm), when the tailor could and should be prepared to go to the customer - any day, any time and any place.

And so Henry Herbert Tailors and our Savile Row by Scooter service was born - using a custom built fleet of Vespa scooters, using full trained tailors, to meet customers around the clock. And the result? Savile Row and every other tailoring firm that could jump on the band wagon tried their hardest to squeeze out every bad word from the Oxford dictionary to wish us a doom! But ten years later, we are still here and still working hard for our customers.

And twice this week, I heard on the radio and on a blog, two Savile Row tailors still rubbishing our idea – how on earth could customers enjoy the same experience away from the workshops and expensive shops. Remarkably, both of them, in the same breath, were advertising their services for customers they will be seeing abroad – away form their shops. It is the service and the product that matters, not the extortionate rents that have to be paid and which therefore find their way in to expensive suits.

Do you participate in initiatives for making the men's suit more attractive to men? How do you think the men's suit industry can unite in order to increase the demand for men's suits as a whole?

There are various industry bodies available to encourage the high standards and development of bespoke tailoring and we always have at least one full time employee on an apprenticeship programme. We also hold DB-Day once a year - a special day devoted entirely to supporting the growth of the Double Breasted suit. There has been a natural growth in bespoke tailoring and tends suggest that this will hopefully continue to grow.

For those that are still not confident how to buy a suit, can you tell what makes a good suit?

For every single customer that comes to see us, we always encourage them to speak to as many tailors as possible – to get a feel of their workmanship and their service. The two are just as important as each other. It is an extremely opinionated business, with a competitor always the first to offer his thoughts on what might not be wright with another firm's workmanship. But at the end of the day, the biggest test should be for the customer to ask himself, "Does this suit make me feel good?". If so, then the tailor has done his job.


Hits: 5615 | Leave a comment