How to choose the perfect tuxedo - tips by Oliver & Rowan Bespoke
You're attending a wedding, and you have already made the decision to go with a tuxedo over a suit. That's a step in the right direction, but unfortunately the process isn't done just yet.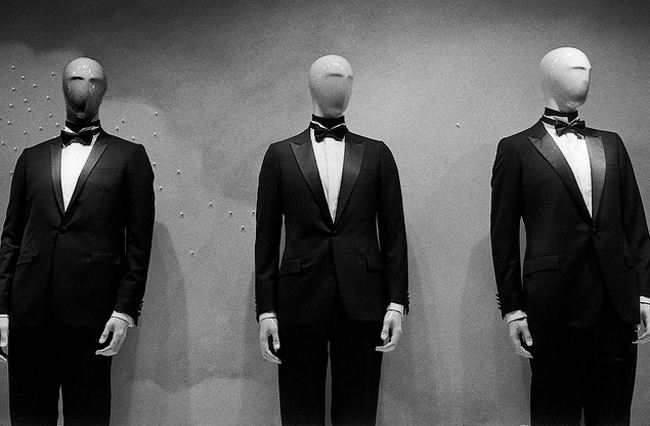 Selecting the right tuxedo can be just as difficult as finding the perfect suit, but we have a few rules of thumb that should help you avoid looking like a high-schooler at prom, whether you are the one walking down the aisle or you're simply there to take in the festivities.
Think about it like this: Women, the bride in particular, are shelling out thousands of dollars on dresses they may never wear again to look their best at a wedding. Conversely, you are spending $200 on a tuxedo that may very well have last been worn by a 17-year-old in a gymnasium. A quality tuxedo has more utility than just one wedding and is a worthy investment over time. While it may not be everyday work wear, the moments that you do don a tuxedo are generally significant enough to make it worth the cost.
Additionally, the chance of finding a tuxedo in a rental shop that fits well is a losing proposition. There are some rental companies that can get you a more modern garment, but those are the exception, not the rule. Because they are meant to be malleable, many stores stock their racks with boxier cuts.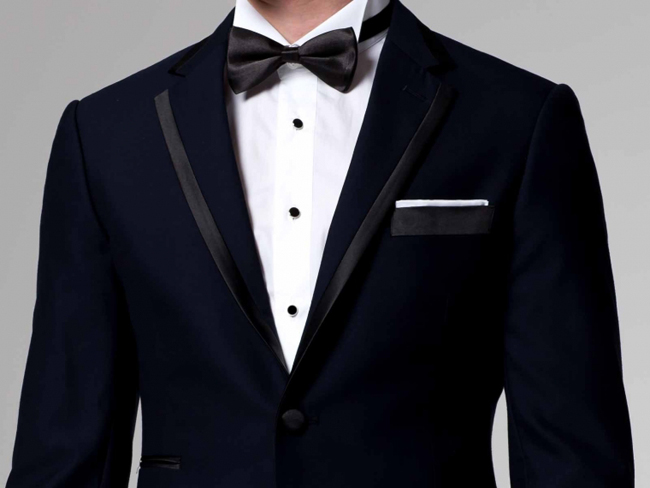 It goes without saying that you aren't making alterations on a tuxedo you'll be wearing for a total of a few hours, so if you go the rental route it guarantees that you're pretty much stuck with whatever you happen to stumble upon.
There are two fundamental approaches to picking your tuxedos color, and they're actually very closely related.
The black, one-button peak lapel is the classic model, a staple of chic formalwear for over 100 years. The slightly newer navy shawl collar make is your other best bet, and it actually owes its heritage to the classic black.
In photographs around the turn of the century, black tuxes would show up grey, so the navy derivative came about because it looked black in pictures. Neither is more formal than the other, so as long as you keep your navy deep and tasteful it is really a matter of personal preference.
A more somber occasion still probably calls for black, but the line is hardly clear-cut.
Most tuxedos, as mentioned earlier, tend to come in a boxier cut, but this really isn't the way to go.
You don't want a billowy shirt or too much give in the shoulders. The ultra slim look is an option with a tux, but depends on your body type and is a little tougher to pull off than a narrow fit, in part because of the accessories and detailing that goes into a tuxedo, like the placket or cummerbund.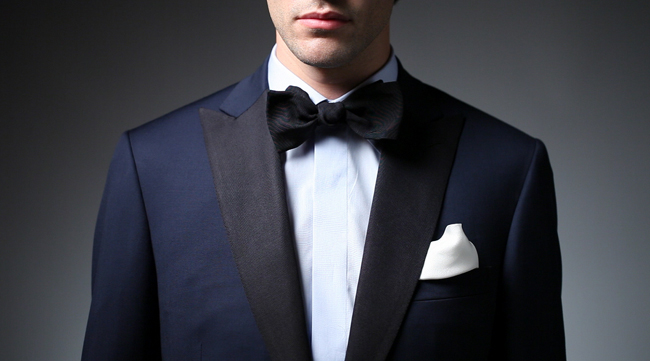 The jacket should fit snugly around the shirt collar, and there should be an inch or two of room in the waist; enough for comfort, but not too much so as to look billowy.

A tuxedo doesn't have the day-to-day utility of a suit, but that doesn't mean the selection process should be any less deliberate. By following the steps above and understanding the nuances of selecting a tux, you can be sure that when you do break yours out, it'll be a show-stopper in a sea of ill-fitting formalwear.


Hits: 4922 | Leave a comment