The Men's Fashion Cluster Academy gives 365 men's suit jackets as a gift to Mark Zuckerberg
Men's suits are a solution to all problems! The whole thing started with Mark Zuckerberg showing his wardrobe of gray T-shirts and continued through the Oscars Chris Rock monologue. Read the story and share it if you like it!!!
Oscars 2017 - Every man will wear a colorful suit
Chris Rock set the new fashion trend - Men wearing colorful suits
George Clooney with a lime green tuxedo at Oscars 2017
Tailors solve the problem of sexism at the Oscars
The Men's Fashion Cluster Academy appeals celebrities to support the young designers
A global contest for menswear at the Oscars 2017 is launched
A contest for designing a suit for Mark Zuckerberg is launched

The host of this year's edition of the Oscars, Chris Rock, opened the ceremony with strong statements about Hollywood Racism in the film industry since all nominated actors were white for a second consecutive year. Before the ceremony there was an online campaign using the hashtag #OscarSoWhite. And a number of dark-skinned famous people have appealed for a boycott of the awards, but instead of refusing to be a host of the event - like he was asked - Rock came face to face with discrimination and ridiculed it in front of millions of viewers worldwide. The problem actually is that dark-skinned actors do not receive good roles in movies and therefore can not be nominated.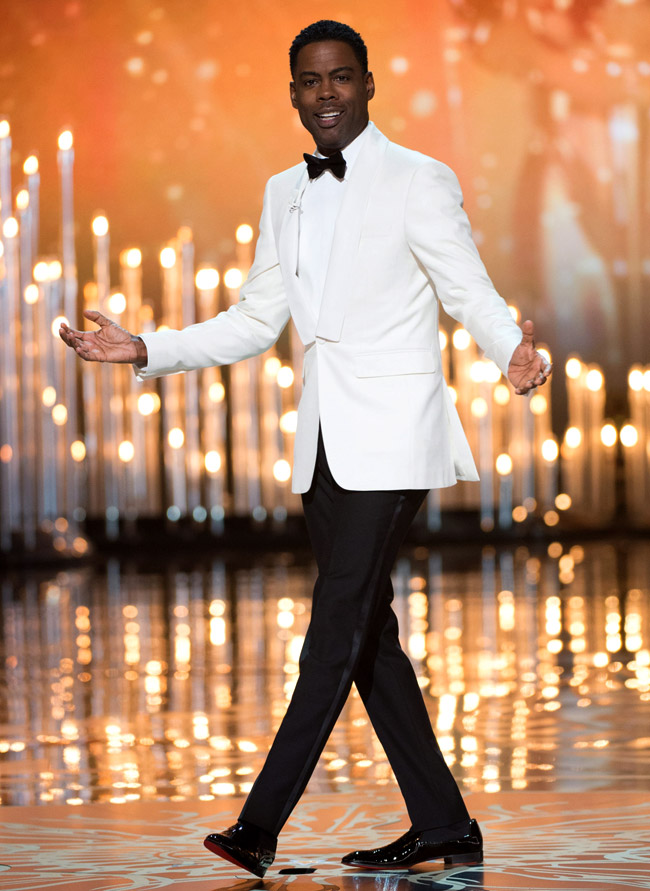 Chris Rock hosting the live ABC Telecast of the 88th annual Academy Awards ceremony,
28 February 2016; © Aaron Poole/EPA

"We want opportunity," he said. "We want black actors to get the same opportunities as white actors. That's it."
He laughingly noted yet that if they want more nominations of black people they must create a separate category for black people as there is a separate category for actresses. So he hit another important topic - sexism.
Another big thing tonight - somebody told me this - you're not allowed to ask women what they're wearing anymore. It's a whole thing: #AskHerMore. "You have to ask her more! You ask the men more!". Everything's not sexism, everything's not racism. They ask the men more because the men are all wearing the same outfits! Every guy in here is wearing the exact same thing! If George Clooney showed up with a lime green tux on, and a swan coming out of his ass, somebody would go, "Whatcha wearin', George!" And why should men all be dressed the same way? The Men's Fashion Cluster Academy appeals tailors to solve the problem of sexism by paying attention to men's attire. Ford's rule: 'Choose whatever design you want but only in black' is no longer valid. Fashion is a hundred years behind the automotive industry, but we see the future –
At Oscars 2017 every gentleman will be wearing a colorful suit.
Chris Rock set the new fashion trend - Men wearing colorful suits

The green color is reserved for George Clooney.

Made-to-measure tailors have long been ready to help men's suit fashion to reach the development of the automobile fashion. There are more than 500,000 color and pattern combinations in men's suit fabrics. The Men's Fashion Cluster Academy sends a message to actors to order their suits at young designers and give them a chance to show their talent.
Celebrities must have a cause - to be promoters of young designers instead of relying on big brands.
Black is not in fashion!
Young designers, join the world contest to create the attire for men at Oscars 2017
Follow our site to learn more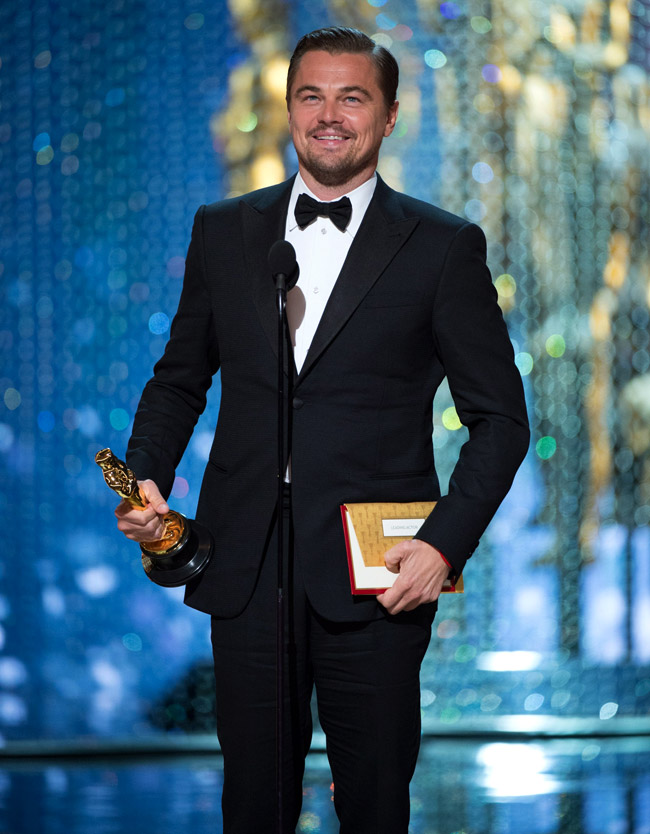 Leonardo DiCaprio accepting the Oscar for Actor in a leading Role for 'The Revenant' during the live
ABC Telecast of the 88th annual Academy Awards; 28 February 2016; © Aaron Poole/EPA

The Men's Fashion Cluster sends a message to Leonardo DiCaprio: 'Leo, we congratulate you for your speech and cause and we wish that you inspire all your fellow actors, to present their personal cause on the stage during the next edition of the Oscars. We gift our causes, which are the future of the fashion industry':
- Say NO to the black suit! Men should show their personality
- Support young fashion designers and stop unemployment
- Celebrities have to be an example for the young generation with their clothing
- Wool is the best material for men's suits
- Children should wear high quality clothes made of natural fabrics
During the Oscars gala event, Leonardo DiCaprio mentioned that he is unhappy, because he can't meet all people. Mark Zuckerberg has solved this problem, so we appeal Leonardo DiCaprio to use Facebook to be closer to his fans, who are millions.
Mark, well done! You give us the opportunity to be happy and to communicate!
The Men's Fashion Cluster Academy gives 365 men's suit jackets to Mark Zuckerberg as a gift.

They will be created by 365 young designers from universities all over the world, so you can wear a different jacket every day over your gray T-shirts. Be an example for young people, because they should be ready for the business world, and clothing is very important as it gives the first impression of the person.
The suit jackets are meant for you, but if you decide, you can give them for charity! We are waiting for your decision.
Our mission is to make young people more successful.
They can't wear T-shirts until they create their own successful business.

Let's us remind you about the legendary Beatles' manager who imposed the suit as the band's stage clothing, to make them an example for the young people who imitate them.

Let's remember also the words of Donald Trump: 'Dress for the job you want, not the job you have'. And who doesn't want to be a banker, a lawyer or a top manager? They all wear suits, right?

Furthermore, the suit is a very comfortable garment, when it is made-to-measure.

Mark, be a legend, impose fashion in the software industry, just like the Beatles combined fashion with music!

Support the cause of the young designers! The Men's Fashion Cluster's factory will produce and give you for free 365 men's suit jackets!


Hits: 5743 | Leave a comment